Transfers
POLL: Hazard, Griezmann or De Ligt - which new signing will have the biggest impact?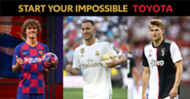 The three biggest names to move in the transfer window - Eden Hazard, Antoine Griezmann and Matthijs de Ligt - will be looking to make an impression with their new clubs.
Will Hazard be able to slot in seamlessly at Real Madrid?
Can Griezmann make the jump to star alongside Lionel Messi at Barcelona?
Is De Ligt going to be a force at Juventus?
POLL: Hazard, Griezmann or De Ligt - which signing will have the biggest impact at their new club?

— Goal Australia (@GoalAustralia) July 23, 2019