World Cup
Poland vs Colombia: Live blog, text commentary, line-ups, stream & TV channel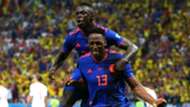 It's just the one more game for Poland now in Group H as they face off against group leaders Japan in Volgograd, looking to at least take home a point from a dismal campaign. Their opposition won't go down easily though as they seek a round of 16 place too - while as for Colombia, they know that only a win against Senegal can send them through too, with a draw enough to eliminate them and give their African rivals a spot in the knockout stages on Thursday. Until then however, thank you for joining us - and have a good week!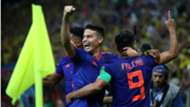 It's joy for Colombia and desolation for Poland as goals from Yerry Mina, Radamel Falcao and Juan Cuadrado ensure that the former stay in the hunt for the knockout stages and the latter are eliminated from the World Cup with a 3-0 win in Kazan. Jose Pekerman's side turned on the style in a rampant second half performance that saw them rout Adam Nawalka's team to set up what is effectively a straight shoot-out with Senegal for the round of 16; Poland, the group's top seed, are the first to be heading home from Russia. Full-time, it finishes Poland 0-3 Colombia.
FULL-TIME: POLAND 0-3 COLOMBIA
---
90+3 mins: Poland look to slip down the left wing as they seek a late goal to give them something to take away; they concede a foul though as Arias goes down and Colombia get the free-kick.
90 mins: Five added minutes on the way in Kazan as Colombia defuse Poland's weak corner comfortably.
88 mins: Lewandowski! The Poland captain almost gets a goal with a monster shot from 22 yards out; Ospina is forced to make a stunning leap to tip it over the crossbar. The Colombian keeper pulls a pained face as he comes back to earth but he has done his job. Corner to Poland.
87 mins: This has been a humbling experience for Poland and a joyous one for Colombia, given their misfire against Japan with 10 men. It's also been a match without any VAR controversy too, a rarity for this World Cup so far.
85 mins: Goralski gets a booking now as he brings down James with a tackle born of frustration on halfway. The Colombian goes for goal from distance, trying to catch Szczesny off his line, but hooks it well wide to the left.
84 mins: It's nearly four for Colombia! After a snafu between Bednarek and Szczesny, Uribe has a chance to back-heel the ball into an open net. He fails to get the power behind it though and Bednarek recovers in time to boot it off the line.
82 mins: Save from Ospina! Poland almost snatch a late goal he stops a close-range shot from Krychowiak at the left post following a corner swung in from the right. Again, the Colombia keeper goes down in pain; he's been lucky that he hasn't been tested too much in this match, given that he seems to have been nursing a knock for most of it.
80 mins: Poland also make their final change now, with Pazdan replaced by defender Kamil Glik, who was initially ruled out of the World Cup through injury. He wasn't expected to be fit until the knockout stages - though Poland won't be seeing that round of the tournament this time round.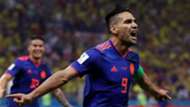 78 mins: A thunderous round of applause greets Falcao's departure as Carlos Bacca takes his place for Colombia's final change.
75 mins: CUADRADO MAKES IT THREE FOR COLOMBIA! Time has indeed run out for Poland as they find themselves at the hands of a rout. James plays another wonderful ball forward, to find the attacking midfielder as he bursts through into the opposition box and nudges his shot into the bottom-right corner past Szczesny.James, unable to start against Japan due to fitness issues, has been very much the spark that has lit up Colombia's World Cup in this game. This has been a wonderful showing from the Bayern Munich man. It's been an emphatic performance from him and his nation.
74 mins: Poland really are into the last chance saloon now; they need to find a brace of goals in the last quarter-hour to keep themselves in Russia beyond the group stages. Time is running out though...
73 mins: Colombia follow with one of their own, replacing the wonderful Quintero with Jefferson Lerma.
72 mins: Poland make a change now at the restart as Lukasz Teodorczyk replaces Bereszynski.
70 mins: FALCAO FOR COLUMBIA! 2-0! That may be curtains for Poland as the Colombian captain, supplied by a Quintero throughball, races into the opposition box and calmly slots home with a strike into the bottom-left corner under Szczesny. It's a glorious throughball from Quintero too, who released it just in time to keep his captain onside. It's Falcao's first World Cup goal - and the one that very well may keep his side in the hunt for a place in the knockout stages.
68 mins: A free-kick 35 yards out on the left for Poland is boomed deep to the right edge of the box where Krychowiak manages to volley it back in. Lewandowski is the man it heads towards, but he goes down under pressure from two defenders and Colombia survive.
66 mins: 25 minutes of regulation time left on the clock in Kazan and Poland are growing into this game. Lewandowski tries to push a header towards goal in the Colombian box, from a long throw-in, only to see it deflect off the face of Davinson Sanchez and into the path of Falcao who clears.
63 mins: Zielinski clatters Barrios to the turf as the pair try to claim the ball near the edge of the Colombia box and the latter wins a free-kick.
61 mins: Bednarek gets a yellow card now for a cynical foul as he cuts down an attempted break from Uribe on the left wing.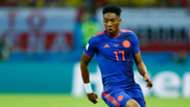 60 mins: Play is resumed after a second stoppage for Ospina to get treatment again and then Colombia hold well against a fast move from Piszczek on the right flank, pushing Poland back to halfway.
58 mins: Lewandowski! Save from Ospina as Poland spot that Colombia's defence has not dropped back save for Davinson Sanchez and push a long ball forward for their captain, who is denied at close range by a dive from the keeper.
57 mins: Cuadrado spears an effort from 35 yards out somewhere into the stand behind Poland's goal after the corner is cleared as far as him in the outfield. Poland make a change after that miss, with Kamil Grosicki on to replace Kownacki.
56 mins: James lays a perfect ball on a platter for Quintero who speeds away to the edge of the Poland box before seeing his shot deflected by Piszczek for a corner. 
54 mins: Pzadan forces a pass wide on halfway and intercepts for Poland to create a break; it peters out weakly in the end after Goralski's cross out to Kownacki on the left wing skips away from him for a throw-in.
52 mins: Falcao! A golden chance to make it two goals for Colombia is squandered by the captain as he blasts a square pass from Cuadrado over and wide at the near-right post from 16 yards out.
51 mins: Quintero goes for goal from distance but spears his effort well wide of goal, leaving Szczesny untroubled.
49 mins: From Piszczek's throw, Lewandowski has a half-chance, only to put his header comfortably wide and high to the right.
48 mins: Bereszynski is threaded down the right wing with a lovely through-ball and he clips a cut-back pass inside for Lewandowski, with Arias slipping in to clear it for a throw-in.
46 mins: The second half is underway! It's been a less-than-vintage showing from Poland, ostensibly the top seed in Group H; can they recover some form to keep their World Cup journey alive in Russia or do Colombia have this all wrapped up?
---
Poland are in need of a boost, though where Nawalka may find it from is a mystery. Save Mina's goal, his defence, led by Jan Bednarek, has been the most impressive part of his side's showing - so perhaps a change in midfield will assist their search for an equaliser. As for Colombia, Jose Pekerman will want more of the same - his side so far have been relatively untroubled.
Yerry Mina's well-placed header off a lovely James ball in the 40th minute is the difference between Poland and Colombia at the break at Kazan Arena, after a half of football that has seen Robert Lewandowski mostly neutralised by the opposition. Juan Cuadrado is just one of several standouts in what has been an enterprising performance by the South Americans - and as it stands, they will be eliminating Adam Nawalka's side from the World Cup too. At half-time, it's Poland 0-1 Colombia.
HALF-TIME: POLAND 0-1 COLOMBIA
---
45+4 mins: Poland win themselves a late corner now which Zielinski turns in, but Ospina - untroubled since the early stages - punches clear and that may be the last chance of the half.
45+2 mins: Cuadrado turns another cross in towards the Polish box with Pazdan clears as far as Lewandowski. The captain breaks up to halfway where he goes down in the tackle; no free-kick is forthcoming though and Colombia regroup to counter.
45 mins: Four added minutes incoming after those earlier delays for injury.
44 mins: James has been directly involved in nine goals in seven World Cup appearances for Colombia, scoring six and assisting three.
42 mins: Much of Kazan Arena is covered in the colours of Colombia, primarily a vivid yellow, and the noise from their fans is deafening. Poland face a big task now; they need a goal to stay in the World Cup.
40 mins: GOAL FOR MINA! COLOMBIA LEAD 1-0! It's a lovely piece of team play as, on the back of another corner, Falcao plays short for Cuadrado who tips it on to James on the right of the box. He floats a lovely cross in to the left post and Mina rises above the Polish defence to knock it home with a clean finish. It's a well-deserved lead for the South Americans whose travelling support explodes around Kazan. James deserves the credit for that lovely cross too; he got a wonderful lift on the ball to steer it slowly over the heads of Poland's defence. Colombia have the momentum five minutes before the break. 1-0 to Colombia!
37 mins: Szczesny punches Falcao's effort away and Poland heft the ball back to halfway to ease the danger.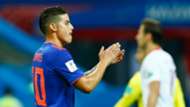 36 mins: Corner to Colombia after Cuadrado sees a close range effort inside the six-yard box slid out with a great save from Szczesny.
34 mins: Arias and Mojica both turn in powerful crosses on the back of a corner, peppering the Poland box - and every time, Bednarek clears them with an impressive series of headers.
32 mins: Indeed, the veteran midfielder is carried from the field, and Mateus Uribe is introduced from the Colombian bench.
31 mins: There is another lengthy delay in play now as medics swarm to attend to Aguilar who has gone down with an issue in back-play. The referee signals for a stretcher; it looks like Colombia will be forced to make an early change.
29 mins: Cuadrado - one of the stronger players across both side so far - loops a fabulous cross in from deep on the right wing, looking for Falcao in the centre of the Poland box. His captain almost gets the touch too; only a frantic clearing header from Bednarek denies him the chance.
27 mins: Piszczek is the first man who meets another weak set-piece and Poland hurry away from their box with possession. Just the three shots so far in this game; two for Poland and one for Colombia.
25 mins: Colombia clear their lines once again and create their own counter that sees James play a lovely ball through for Falcao. The striker can't find the inside pass in the Poland box though after his break and Piszczek sticks it out for a corner. End-to-end stuff in the last few minutes.
23 mins: Arias is threaded into the Poland box with a lovely move down the right wing, but his square pass inside looking for Falcao only finds Piszczek. Colombia are then thrown into reverse as Lewandowski leads a blistering counter-attack; Barrios is the man responsible for halting it as he pushes a loose pass out for a corner.
21 mins: Aguilar can't quite get a touch to a throughball from Quintero on the edge of the Poland box and slips trying to get there as it sails wide for a goal-kick.
19 mins: Zielinski wins a corner off a Mina deflection as he lines up a shot from outside the box. Colombia defuse the set-piece easily through Davinson Sanchez's clearing header though and play is pushed back to halfway.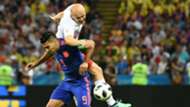 17 mins: Bednarek lands a diving header in his own box to clear a Quintero cross in, and then Lewandowski is awarded a free-kick following a tackle by Davinson Sanchez that body checks him to the ground.
15 mins: Colombia thread together a fast-paced break down the left wing through Mojica that is turned in looking for James in the box. It skips behind him to Arias instead, who blazes his half-chance from 25 yards out wide enough for a throw-in rather than a goal-kick.
13 mins: Cuadrado curls a shallow cross into the Poland box as Colombia come forward; Pazdan clips it back out, straight to the opposing Arias who fortunately handballs it. Free-kick to Poland.
11 mins: It's been a rather nippy opening to this game, with a fair few fouls flying around. Now Poland win a free-kick themselves, on halfway for a foul on Krychowiak by James.
9 mins: Cuadrado wins a free-kick inside his own half for Colombia once more, this time as Kownacki brings him down on the edge of his own box with a clumsy challenge.
7 mins: Play resumes with Ospina able to continue and Mina wins a free-kick a few moments later after Lewandowski accidentally steps on his fingers following a slide tackle.
5 mins: Lewandowski pushes a header in from a Bereszynski cross and Ospina leaps to collect it with little difficulty. There is an extended break in play now as Ospina goes down in agony following that save. It stops the early, breathless momentum of the game while he gets treatment.
4 mins: There is an extended break in play now as, after picking out a Bereszynski header on the back of a Poland attack, Colombian keeper Ospina goes down in agony. It stops the early, breathless momentum of the game while he gets treatment.
2 mins: A second corner now for Poland as Colombia's Arias, decked out in blue, wards off a Rybus cross in from the corner. A third follows as Barrios clears Bereszynski's probing pass into the box next.
1 min: We're underway! Poland, in red and white, force Colombia back with pace and look to snatch an early goal with a Kownacki effort looped in from 20 yards on the left. Mina gets a solid header to it and puts it out for a corner.
---
5 MINS TILL KO: The teams are out here at the Kazan Arena, the anthems are underway and we are just moments away from kick-off!
Poland's recent World Cup record has been less than stellar too; they have lost seven of their last nine games, with their only wins coming against Costa Rica in Germany 2006 and the USA in Japan and South Korea 2002.
With no game in Russia yet to yield a scoreless draw, expect goals in Kazan today too; Colombia have never played in a goalless match in World Cup history and Poland haven't kept a clean sheet since a 1-0 win over Portugal in 1986.
10 mins till KO: Both sides meet for their first time in their competitive history in Kazan, following a 2006 friendly in Chorzow were Colombia prevailed 2-1. Pekerman's team will be hoping for history to repeat itself and present a similar result today; in addition to giving their progression chances a shot in the arm, they will be looking to avoid consecutive defeats to open a World Cup for the first time since USA 1994 when they were defeated by Romania and the hosts.
15 mins till KO: Here's a reminder of the teams news tonight.
POLAND (3-4-3): Wojciech Szczesny; Michal Pazdan, Jan Bednarek, Lukasz Piszczek; Maciej Rybus, Bartosz Bereszynski, Grzegorz Krychowiak, Jacek Goralski; Piotr Zielinski, Robert Lewandowski, Dawid Kownacki
Subs: Lukasz Teodorczyk, Lukasz Fabianski, Thiago Cionek, Slawomir Peszko, Kamil Grosicki, Bartosz Bialkowski, Kamil Glik, Rafal Kurzawa, Karol Linetty, Arkadiusz Milik, Artur Jedrzejczyk, Jakub Blaszczykowski
COLOMBIA (4-5-1): David Ospina; Davinson Sanchez, Santiago Arias, Johan Mojica, Yerry Mina; Juan Cuadrado, Abel Aguilar, Juan Quintero, Wilmar Barrios, James Rodriguez; Radamel Falcao
Subs: Oscar Murillo, Luis Muriel, Mateus Uribe, Camilo Vargas, Cristian Zapata, Miguel Borja, Jose Izquierdo, Carlos Bacca, Jefferson Lerma, Jose Cuadrado, Farid Díaz
20 mins till KO: As for Colombia, manager Jose Pekerman makes four alterations to the team beaten 2-1 by Japan, with James Rodriguez returning to the XI after missing out on a starting berth previously due to fitness issues. Midfielders Wilmar Barrious and Abel Aguilar, alongside back Yerry Mina, all also get starts with Oscar Murillo, Jefferson Lerma and Jose Izquierdo dropped and Carlos Sanchez banned after his red card last time out.
25 mins till KO: Team news now and Poland coach Adam Nawalka makes a trio of changes to the side who succumbed 2-1 to Senegal in Moscow, with forward Dawid Kownacki preferred to Arkadiusz Milik in a three-man attack alongside Robert Lewandowski and Piotr Zielinski. Jan Bednarek and Bartosz Bereszynski also come in with Thiago Cionek and Jakub Blaszczkowski relegated to the bench in a 3-4-3 formation.
30 mins till KO: The pair were favourites to progress before opening defeats to Senegal and Japan set them at a disadvantage - but with their fellow teams mustering only a draw earlier today, will either of them be able to claim a first win to bolster their chances of making the round of 16?
35 mins till KO: Poland and Colombia look keep their hopes of reaching the knockout stages alive in Group H as they cap off the second round of tournament fixtures at Kazan Arena. 
45 mins till KO: Hello and welcome to Goal's live blog of the Group H clash between Poland and Colombia at the 2018 Russia World Cup.
---
Squads & Team News
---
Confirmed Poland XI: Szczesny; Pazdan, Bednarek, Piszczek; Bereszynski, Goralski, Krychowiak, Rybus; Zielinski, Kownacki, Lewandowski
Poland subs: Teodorczyk, Fabianski, Cionek, Peszko, Grosicki, Bialkowski, Glik, Kurzawa, Linetty, Milik, Jedrzejczyk, Blaszczykowski
Confirmed Colombia XI: Ospina; Arias, Mina, Sanchez, Mojica; Barrios, Aguilar; Rodriguez, Cuadrado, Quintero; Falcao
Colombia subs: Murillo, Muriel, Uribe, Vargas, Zapata, Borja, Izquierdo, Bacca, Lerma, Cuadrado, Diaz
---
TV Channel, Live Stream & How To Watch
---
In the United States (US), the game can be watched live and on-demand with fuboTV (7-day free trial).
New users can sign up for a free seven-day trial of the live sports streaming service, which can be accessed via iOS, Android, Chromecast, Amazon Fire TV, Roku and Apple TV as well as on a web browser.
In the United Kingdom (UK), the game can be watched live on TV on BBC or streamed live online using the ITV Player.
| UK TV channel | Online stream |
| --- | --- |
| ITV | ITV Player |