PSL
Player Perspective: Life in Ramadan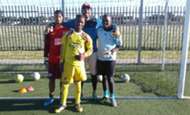 ---
PLAYER PERSPECTIVE:    SHUAIB WALTERS       Follow on Twitter
---
This year Ramadan falls in our off season which will allow me, for the first time in many years, to fully focus on this Holy month as it is not just about fasting. I will be using my time to do volunteer work and to just give back as much as I can, to the community, as my aim is to also focus on my faith.
As a devout Muslim, I believe that faith comes before football. I've often been asked questions such as: do I fast when we train or play? Or how do I cope with fasting and being a professional athlete with the strenuous training and fasting when we have league games?  
Depression is prevalent in South African football
To me, your ability to train and play during fasting just comes down to your mindset. I never have a problem with training when fasting, it does become a bit more difficult when I have a match and to me, these are the times when I am tested.
On the more practical side, you must plan and prepare well. This means having meals that include lots of slow release energy foods like cereal and bananas at suhoor (the pre-sunrise meal which is equivalent to breakfast) to give you the energy you need during the day. I especially consume lots more slow release energy foods when I know we will have two training sessions for the day.
South African coaches see us as a threat, says Delron Buckley
I also always ensure I drink lots of fluids. I do, however, see a change in my recovery time during my fasting period; it takes a bit longer. So after training or playing I'd go home and sleep and try and rest my body. You have to make sure you rest at different times. It's a switch-around, but your body does get used to it.
I also feel for professional athletes that play in Europe as their hours of fasting are a lot longer, and more often, than not these athletes choose to fast and not take the easy road. Hashim Amla, for example, is touring the UK now and their hours are longer because it's summer. My thoughts are with all my Muslim brothers and sisters during this holy month.
And recent studies have proved that fasting is good for you!
Till next week!
This column is brought to you by  Lotto Sports Apparel.
Goal.com would like to wish Ramadaan Mubarak to our Muslim readers