Betting
Play for a huge £800,000 jackpot with Goal's Colossus Syndicate featuring Juventus and Crystal Palace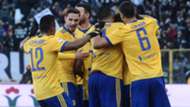 Goal's Syndicate is back this week and a huge £800,000 Jackpot is once again on the line.
To get involved, simply click this link and join the Syndicate on Colossus Bets for as little as 20p as we attempt to land the huge cash prize!
We've selected a few of the games in this week's 1X2 Pick 15 pool, and given our thoughts on how we think each match will go.
West Ham United v Newcastle United - Home win
After starting his tenure at the Hammers with three losses and a draw, David Moyes has revitalised the London club with two wins in their last three league games – including the scalp of champions Chelsea.
The Magpies have lost their last two away games at West Ham and, perhaps more importantly, have claimed just a single point in their last nine matches whilst netting just six times in that run.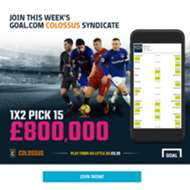 Juve have by far the most potent attack in Serie A this season with 44 goals, and in their last 46 home Serie A games they have won 41 and lost just once.
Roma's mean defence will be given their hardest challenge yet against the likes of Paulo Dybala and Gonzalo Higuain, but the capital club have not beaten Juventus on the road since a 2-1 victory in 2010 courtesy of a late header by John Arne Riise.
QPR v Bristol City - Away win
Bristol City are high-flying at the moment in the Championship with seven wins in their last nine, and the Robins have lost just once away from home this season whilst winning five of their last six on the road.
QPR's relegation fears were slightly alleviated with a 2-1 victory at bottom side Birmingham City last weekend, but that does not change the fact that they have lost five of their last seven and won just two of their last seven home games.
Stoke City v West Brom - Draw
These two sides have netted a meagre 32 times between them this season, and no Baggies player has scored more than two goals.
West Brom are also winless in their last 16 matches, with Stoke grabbing three points on just one occasion during their last eight Premier League games.
Swansea City v Crystal Palace – Away win
Crystal Palace's bad start which saw them lose eight consecutive games has all-but been erased from the minds of the players, and now the Eagles are unbeaten in seven under the stewardship of Roy Hodgson – one of only three clubs with no losses in that timeframe.
The Swans, on the other hand, could not be in deeper trouble if they tried. They sit bottom of the Premier League and have claimed just four points from their last 10 games, with no side collecting fewer during that span.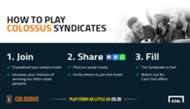 What is Colossus pools betting?
Colossus offer pools betting games with lotto-sized Jackpots across a range of sports. All Jackpots and Consolation prizes are shared if there is more than one winner in the pool.
What are Colossus Syndicates?
Colossus Syndicates enables players to crowdfund larger tickets and hunt down those lotto-sized Jackpots together.
This week's Syndicate
As the captain, Goal have made the selections for the Syndicate. You can see all the picks for this weekend's 1X2 Pick 15 pool.
Our ticket has covered multiple outcomes in some of the legs, giving us a stronger chance of winning the £800,000 prize!
You can join the Syndicate now and help to fund the ticket from as little as 20p, assuming you like the look of our selections of course!
Share your ticket socially and help fund it
Colossus customers can share tickets socially via Twitter, Facebook or WhatsApp, a great way to show others what you're backing, enabling them to help crowdfund the ticket too.
Like the look of these selections? Join the Goal.com Syndicate and play for a share of the £800,000 prize this weekend!