Mamelodi Sundowns
Pitso Mosimane: Nerves got the better of Mamelodi Sundowns defender Bangaly Soumahoro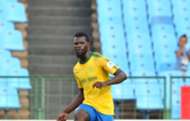 Mamelodi Sundowns coach Pitso Mosimane has backed defender Bangaly Soumahoro in spite of his recent mistakes.
The Ivorian most recently was guilty of failing to mark Horoya dangerman Aboubacar Camara which subsequently forced Sundowns to share the spoils and put themselves in a precarious situation for the remainder of their Caf Champions League campaign in Group C.
Soumahoro's disappointing performances comes in the wake of the nightmare which he endured in a friendly against Spanish giants Barcelona, where he was guilty of giving away possession and was punished for the opener. 
Nonetheless, the Brazilians mentor has admitted disappointment with the way they conceded against the Guinea champions. The 2-2 draw now means that Sundowns find themselves in third place with just two points as the Champions League goes on a hiatus due to the 2018 Fifa World Cup.
"I was a little bit unhappy because it was 2-1 and my centre-back lets the most important player that we all know on set pieces, he is the only player who scores with the head, we all know that," Mosimane told the media. 
Meanwhile, there had been much talk about Soumahoro turning allegiance and choosing to play for the Guinea national team. Despite Soumahoro being born in Ivory Coast, he has a Guinean mother, making him eligible to play for the West African nation, and Mosimane reveals that could possibly have unsettled him ahead of the game.
"He knew that somebody approached him to play for Guinea and I was a bit worried that it might affect his game and it did affect his game. He didn't play the way he always plays," Mosimane said.
"He is a better player, he was a bit nervous because he wanted impress and he didn't play normal but he is a very good football player," the 53-year-old continued.
"In my opinion, if he wants to play for Guinea, I give him the green light," he concluded.