Mamelodi Sundowns
Pitso Mosimane: It's tough times at Mamelodi Sundowns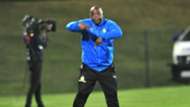 Resulting from their second draw in a row against Bidvest Wits on Sunday afternoon, Mamelodi Sundowns coach Pitso Mosimane has expressed his unhappiness as he lashed out at the officials.
The Brazilians' mentor was visibly angry after his men failed to capitalise on an erratic Clever Boys defence at the Lucas Moripe Stadium.
"Yeah remember we are supposed to keep composure, be gentlemen and we are supposed to talk nice when emotions are high and the title is going," Mosimane told Supersport TV.
"Because if you start talking and doing other things you will be called for disciplinary action. When you say it as it is, the whole of South Africa, those who don't like Sundowns say 'Pitso is a cry baby'. So we should just keep quiet and these things should happen to us every week and we are losing points," said the manager.
"At the end of the day we are losing points, I saw (Simon) Murray last week against Cape Town City, the goalkeeper never touched him, they benefitted Wits - they got a penalty you know," he continued.
"We are on the end of the stick every week, who cares people say somebody won the league, who cares? It's a game of football and sometimes you benefit. Like Wits benefitted and they are on top of the log, who cares?," he quizzed.
"It's the way it is, the spotlight is on us, on me. Am I a gentleman or not. The linesman is here, straight on the line, but he can't make a decision. What are you going to do?," he added.
Speaking about the clash, the former Bafana Bafana coach congratulated the Clever Boys for a good game of football, but rued the chances they wasted.
"Bidvest played better than us, you have to congratulate them, but we were more dangerous. They had those chances earlier where they could have scored, but we had an open one, where Lebo (Maboe) decided to curl the ball, he should shoot in front of the goal," continued 'Jingles'.
"Toni Silva, he was not okay. We said to him he must not play, but he said he is okay. 'No coach I'm okay', he was sick, but he forces and sometimes you have to listen to the players unlike to players who don't want to play," he explained.
"But at the end of the day it's a lesson to him that when you are sick you must you should be honest and give the other guys a chance," added the coach.
"Unfortunately we lost Anele (Ngcongca) [and] Thapelo (Morena) in a warm up, and we had a makeshift defence with (Motjeka) Madisha at right back. Thapelo is like a winger and we could have done something," said the Masandawana mentor.
"It's tough times and we will get there and it doesn't look too good every week, it's not only us. It's the game of football, I've seen Bayern (Munich) lose 3-0 yesterday, Barcelona and Real Madrid pick one out of seven points," he noted.
"It's a game of football and you can't have a honeymoon every time, but we have to keep going. What are we going to do, the situation is the way it is. It's unbelievable," responded the coach.
"People are benefitting, when are we benefitting? We are losing points," concluded Mosimane.
Meanwhile, the reigning PSL champions will meet Chippa United on Saturday, October 27 away after the Fifa international break.