A-League
Phoenix flying on and off the pitch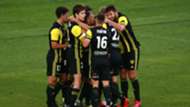 It's been a resurgent season for Wellington Phoenix with the club close to securing a finals spot as they find form at the right time scoring 15 goals in their past three games.
That explosive spell has in turn seen the club makes waves on social media with the Nix boasting the second highest engagement of any A-League club across the platform in March.
💻 SOCIAL-MEDIA | ⚽ TOP 3 @ALeague teams ranked by total interactions in social networks during march 2019.

1.@gomvfc 277K
2.@WgtnPhoenixFC 160K
3.@SydneyFC 152K#SocialMediaFootballLeague pic.twitter.com/r8TPzwSNH9

— Deportes&Finanzas® (@DeporFinanzas) April 5, 2019
If that wasn't impressive enough, Wellington are in a league of their own when it comes to their use of YouTube - more than tripling the views gained by the next best performing A-League side on the site.
🙌🙌🙌 pic.twitter.com/Pv5gbRKj8l

— Wellington Phoenix (@WgtnPhoenixFC) April 5, 2019
The Phoenix's strong social media performance in March was helped not only by their form but also when Italian giants Roma selected them as their Team of the Day on Twitter.
With Wellington's A-League licence set to expire at the end of next season, all these positive metrics are pivotal for the club as they look to justify their place in the competition. 
Having broken their record for a regular season home crowd earlier in the year, the Nix are certainly making a good case for their A-League future. 
Under Mark Rudan, Wellington have also been playing some brilliant football with Mark Bosnich recently describing them as one of the best teams he's ever watched in the A-League.
"They are one of the most attractive teams I have seen in A-League history," Bosnich said on Fox Sports A-League Hour.
"Ange Postecoglou's side, for me, were hands down the best team to watch.
"So they're not at that level yet but they're on that same path and it's wonderful to see."
Playing such attractive football, the Nix have averaged a home crowd of 8,551 this season - their highest since 2014/15 and nearly 3,000 more fans than last season.
That current average is also more than Melbourne City, Western Sydney Wanderers and Central Coast Mariners have all managed to attract as Wellington prove their A-League worth.