World Cup
Peter Velappan: 'ASEAN can win 2034 World Cup bid with me at the helm'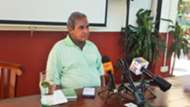 ---
BY        ZULHILMI ZAINAL       Follow on Twitter
---
Former Asian Football Confederation secretary-general Peter Velappan wants four Association of Southeast Asian Nations (ASEAN) countries to bid for the right to co-host the 2034 World Cup, with him at the helm.
In a press conference held in Kuala Lumpur on Thursday, the 82-year old former football administrator, who just returned from meetings with FIFA officials at the World Cup in Russia, proposed that the co-hosting duties be shared between either Singapore, Thailand, Indonesia, Vietnam and his native Malaysia. However, he admitted that he hasn't made the proposal officially to the respective countries' football associations, or the region's confederation; the ASEAN Football Federation (AFF).
According to him, the main reason behind his proposal is the desire to unify the region using the sport.
"Football today, especially the World Cup, is much more than a game. It is a unifying force. You see the fans at the stadium wearing different colours, but hugging each other. We don't see fan violence anymore. It's all very peaceful and cordial.
"Let the politicians fight their battles, but on our side, we have to unite the people using football and bring joy to them. That is what football can do," he remarked.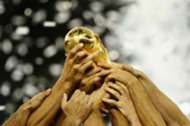 Photo by Getty
Peter, who served as the AFC secretary-general from 1978 to 2007, also added that the financial gains from hosting the tournament would further contribute to the development of the sport in the region.
"Today, the television rights (to broadcast the World Cup) contribute 70 per cent of the tournament's income. It's a huge sum of money. Each team receives USD8 million for reaching the finals.
"Everybody will benefit financially; currently the association receives USD48 million, the players get USD1 million each, new facilities will be built," added the former Malaysian FA (FAM) official.
Peter also believes that the region stands a good chance of succeeding in their bid, with him at the helm.
"If I'm in the driving seat, there's a good possibility (of ASEAN voted as the host)! But our competitors will be a joint-bid of North and South Korea, China and Japan. I've met with Chinese and Japanese officials and they're very keen of working together with the two Koreas. (But) Korea and Japan have already hosted it back in 2002, so ASEAN countries have a better chance; that's the logic behind it.
"This bid must have a 100 per cent government support because they have to be involved in a lot of aspects. We have eight years to work on the bid, as the hosting right to the 2034 tournament will be decided in 2026. 
"We must first show our commitment, that we want to host the World Cup. Secondly the stadiums, but there are no problems on that regard in the region. Thirdly, the teams (must improve)!" said the octogenarian.