South Africa
Parliamentarians quiz Safa president Danny Jordaan over Stuart Baxter's salary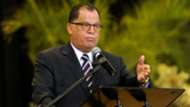 The South African Football Association (Safa) president Danny Jordan has dismissed reports stating that the new Bafana Bafana coach' Stuart Baxter' will be earning R1-million a month.
The Safa boss was briefing Parliament's Sports and Recreation portfolio committee on Wednesday.
"Did Baxter make a demand that [his son must be a goalkeeper coach]? No... Is Baxter getting R1-million a month? No. Is Baxter getting more than Shakes Mashaba? No'" he said The Sowetan

The British tactician has replaced Shakes Mashaba, who was fired by Safa last December. The South African tactician was reportedly earning just over R500,000 per month as the Bafana coach.
Jordaan was accompanied by SAFA chief executive officer Dennis Mumble' who refused to give the exact amount paid to Baxter despite numerous pleas from DA parliamentarian Tsepo Mhlongo.
"We have not published any salaries of any of our staff' including the former coach. What you read in the papers .. they are throwing around figures that have no basis in reality'" said Mumble on the same publication.
Jordaan added that parlimentarians, who wanted to view Baxter's salary could visit Safa House and sign a non disclosure agreement before seeing the new Bafana coach's package. 
He went on to decline to answer questions regarding Mashaba's dismissal.
"But I think there are other issues that we don't want to talk about but we can brief you privately on the kind of problem that arose. You always have to look at your players and the best interest of your players and ...what issues they have'" he concluded.