China League One
Outrageous refereeing blunder sees Chinese team play with TWELVE players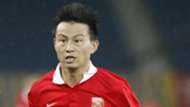 A fixture in the second tier of Chinese football was marred by huge controversy as a team fielded a 12th man towards the end of the game.
With Beijing Renhe leading against Baoding Rongda and defending a corner in the 89th minute, Rao Weihui hadn't realised he'd been substituted and he subsequently re-entered the field of play.
The midfielder had been receiving medical treatment on the touchline, with Beijing deciding that they would replace him with substitute Han Xuan.
He clearly didn't get the message, though, with Rao Weihui coming back on to leave the home side with 12 men and the match officials initially not realising what had happened.
Play resumed for around 40 seconds until the blunder was finally spotted, with the away supporters attempting to draw the attention of referee Zhen Wei by chanting "12 men, they had 12 men!"
Rao Weihui would eventually depart although Beijing Renhe held out to claim a 1-0 win that will undoubtedly have angered Baoding Rongda, given the incredible officiating blunder.
China star facing ban over affair
Neither Zhen Wei nor the Chinese football association made any official note regarding the incident although reports in China have suggested that the referee is now in danger of being removed from his duties.