Arsenal
Ospina calls for clarity at Arsenal as Wenger bids farewell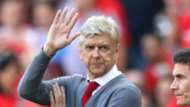 David Ospina has called for "clarity" at Arsenal, with the club yet to decide who will fill the void created by Arsene Wenger's impending departure.
After 22 years of stability in the dugout, the Gunners are set to bid farewell to a long-serving manager following a final day showdown with Huddersfield.
Various candidates have been mooted for a prestigious role in north London, with Goal revealing that Mikel Arteta and Massimiliano Allegri are the preferred contenders.
No appointment has been made, though, and Ospina admits the uncertainty is doing little for those trying to plan for the future at Emirates Stadium.
The Colombia international goalkeeper, who has been linked with a summer move elsewhere, told Sky Sports: "Footballers want clarity and obviously at the moment we don't know who's going to be coming in to take the reins.
"There is a little bit of uncertainty there amongst the squad. However, we just hope the club does a really good job in terms of bringing the right person in to succeed Wenger."
For now, those at Arsenal are hoping to offer Wenger a fitting send-off at the end of an iconic reign.
The Gunners have struggled on the road in 2018, with a woeful record attracting plenty of criticism, but Ospina is determined to put things right at the John Smith's Stadium.
Pressed on what the players have in store for their outgoing boss, the 29-year-old said: "It is a surprise. The most important thing obviously is to help him sign off with a win at Huddersfield.
"It would be very memorable to give him that final victory for his last game. We are going to be giving everything on the pitch to make sure that happens and then we'll see what happens.
"I can only imagine what's going through his mind because he's been at this wonderful institution of a club for the past 22 years.
"It's a club where he's given everything in order to ensure Arsenal progress as a football team, therefore I'm sure there will be a lot of feelings going through his mind for his last game. But I just hope we can give him something to shout about for his last game and help him sign off with a win."