Orlando Pirates
Orlando Pirates' Mama Joy Chauke: We are tired of burying Kaizer Chiefs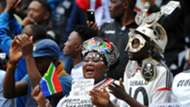 The countdown to the Soweto Derby between Orlando Pirates and Kaizer Chiefs  at the FNB Stadium is already underway and to the Buccaneers' faithful fan Mama Joy Chauke, the match is similar to an unveiling of a tombstone.
The Ghosts' most recognised supporters in Mama Joy and Philip Jwara took time to chat to Goal ahead of the most eagerly anticipated fixture on the South African calender.
Goal: It is now three days to the big game, what are your thoughts and expectations going into this one?
Jwara: This is one of the biggest Derbies in the history of all Derbies because we will be unveiling a tombstone on Saturday. It will be tough. I also want to tell the supporters, especially those of Orlando Pirates that this will be an unbelievable one.
Mama Joy: The fact that the Derby is sold out means it is not just a small game. This is a massive encounter and sadly, we can only mention one club where we say Pirates, Pirates and no Kaizer Chiefs. We will beat them again, I know they are suffering from the 3-1 beating we gave them.
Goal: Going into this game, where do you think you need to strengthen and fix your errors especially after bagging a narrow win over Chippa United last weekend?
Jwara: We have the best strikers in the PSL and everybody knows that. The goals will come from all corners of the field, but we only need to sort and fix our defence. We are happy because we did not concede against Chippa and that is good. I am confident that we will have a good game. Pirates will have many goals just like last season, you know we gave them a 3-1 hiding, Luvuyo Memela's brace and Thembinkosi Lorch was on target.
Mama Joy: Yes we beat Chippa with a 1-0 score and I am not scared of Chiefs. Bring them here and we will show them their place. We finished with them a long time ago, the only thing left for them is to give them a proper unveiling on Saturday.
Goal: Apart from the likes of Memela and Lorch...there is Vincent Pule, Justin Shonga and Augustine Mulenga... 
Jwara: Yes, they know how Lorch and Memela strikes and we will have something different now. They don't know Mulenga, they don't know Shonga and we have to youngest boy who is going places with his football. Vincent Pule will show them flames and I am happy they are all scoring, we are good upfront. We are very dangerous, and I am sorry for Itumeleng Khune, he will feel sick on the day. We are not scared of Chiefs, and because we put them six feet under, we are going for a Christmas before time.
Goal: You're at home for this one, does this bring some pressure on your team to win?
Jwara: There's a difference between a Knockout game and a league, we know the league is a marathon and this means we will have a different strategy on Saturday. We will beat Chiefs, but the coach will plan differently and I know they will be shocked on Saturday. We have no pressure against Chiefs.
Mama Joy: We have to win at home, because we are at home and an unveiling is very important to us as people. I believe my team will do the ceremony in a good way because we are at Orlando Stadium as we speak. I think we have Xola Mlambo, Mulenga, Shonga, Pule is very hot and (Thamsanqa) Gabuza is there, we cannot fail to beat them. Pirates is one of the privileged clubs when it comes to scoring goals because we don't rely on one player.
As you say your are with the players now, what are you telling them?
Mama Joy: The players are aware of the PSL title ambitions, they know their job and I am with them to give them our support ahead of this unveiling. I told them we must dominate and they know the Derby is very important. This is our match and we expect another 3-1 win again. The notice has been issued, the unveiling at the same place, same time, same scoreline – we are tired of burying them.
Goal: A final message to supporters? 
Mama Joy: The game is sold out already and those who do not have tickets must stay at home and check the game on television. They will still witness the unveiling service because if you come to the stadium you will end up buying a fake ticket, get arrested and miss the service because you will be in prison. If you don't have a ticket, don't come.