Orlando Pirates
Orlando Pirates assistant coach Mokwena's call up to Bafana Bafana wasn't done properly, says Baxter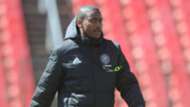 South Africa head coach Stuart Baxter has revealed that Orlando Pirates assistant coach Rhulani Mokwena will not be be traveling to Zambia with the national team.
Bafana Bafana are set to participate in a four-nations tournament in Zambia during the upcoming Fifa international break. South Africa, Angola, Zimbabwe as well as Zambia are the four teams which are set to take part in competition.

Last week, Baxter decided to rope in Mokwena for Bafana to make sure that young coaches are empowered.
''As everybody knows this camp has been really' really compromised in terms of time for preparation. The warning times for us to know that we were taking part (in the four-nations tournament) was very' very short," Baxter said.
''And what that's done it's made the lines of communication also a little bit short' and it's possible that protocols were not followed 100 percent. So at this moment in time Rhulani will not be taking part in this camp," he continued. 
''We understand the situation at Pirates and we just want everybody to know that the intentions was to bring a young up and coming coach to the camp and give him that experience.
''That was a positive gesture and I think all parties will look to try to readdress that in the future. But at the moment Rhulani will not be joining us."
The British tactician admitted that Mokwena's call up to the national team wasn't done properly. 
''I think I got confirmation myself of the camp about 10 days before we were due to leave. So the actual negotiations' if you wanna say' for the camp were protracted and therefore everything had to go very quickly," he added.
Mokwena and Bucs head coach Milutin Sredojevic have done a great job at the club this season. The Buccaneers are place second on the PSL standings and they are competing for the league title.
''And I just think that possibly in a normal world we would have given Pirates greater notice — they felt a little bit that this was sprung on them. It is understandable because they are in a pressure situation at the moment," he explained
''But we all agree that the concept is a good one and that we want to do it' and Rhulani is a good candidate. So no one is arguing (against his inclusion in the Bafana technical team)' it is just a question of 'let's make sure that we do it at the right tempo that suits everybody'," he concluded.
Bafana will face Angola in their first game in the four-nations tournament on Thursday.