Omar González
Omar Gonzalez concerned about Donald Trump's rhetoric, appointments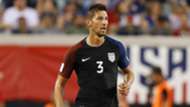 With Donald Trump just hours from being sworn in as president of the United States, Pachuca defender Omar Gonzalez expressed his concerns about the incoming president.
At a news conference ahead of the Tuzos' contest against Necaxa, the Dallas native spoke candidly about Trump, who kicked off his ultimately successful campaign with a speech that included comments degrading Mexicans.
Move over, Trump! Football's 20 most controversial presidents and owners
"I didn't vote for him. There's fear here in Mexico, but there's also fear in the United States," Gonzalez said. "There are a lot of people who didn't want him to be their president, but that's how things go.
"Hopefully the way he talked in the campaign, hopefully he's not going to keep talking like this and will treat people as they should be treated. But I'm a bit worried about the people he's put in place: A lot of rich people with a lot of money who don't have any idea how poor people live their lives or their values."
Gonzalez also expressed skepticism that Trump's plans to build a more comprehensive wall on the border between the neighboring nations is the right strategy for immigration reform.
When asked about soccer, Gonzalez discounted the theory that this weekend will be a chance for Pachuca to get one back on Necaxa after the Rayos knocked Pachuca out of the Apertura quarterfinals in December.
"It's another game. Every game is different," he said. "It's not revenge, it's another chance to be better than them."
Gonzalez was named to the Liga MX Best XI after his performance in Pachuca's 1-0 win over Chiapas last weekend. Saturday's contest at Necaxa kicks off at 10 p.m. ET.