Olympics goalkeeper Odonkor wants to emulate Kingson's success
Last Updated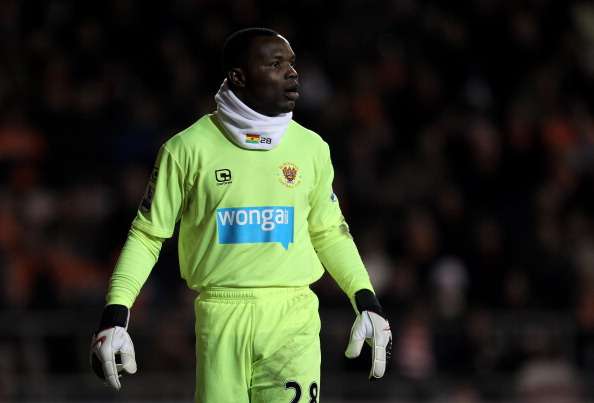 Richard Kingson, Blackpool days
Great Olympics goalkeeper Ebenezer Odonkor has revealed that he wants to emulate the career of childhood hero and former Ghana goalkeeper Richard 'Olele' Kingson.
The 18-year-old goalkeeper, who graduated from the club's youth team this season, has surprisingly displaced veteran Osei Boateng, keeping the post over six games so far this campaign.
"I arrived at Great Olympics to meet Richard Kingson. He trained and told me things I need to do to become a good goalkeeper," Odonkor told Ghanasportsonline.com.
"I see him as my role model. He is a big brother to me and I always call him for advice.
"I watched him when he was playing for the Black Stars and I've always wished to become like him. I want to have a successful career like he did when he was actively playing football for both club and country. I hope I can achieve as much in my career as he did."
Olympics after a difficult start to the season were handed three points and goals last week after debutants Bolga All Stars were found guilty of failing to pay their officiating fees while in the second-tier en route to their qualification to the top-flight. The Accra-based club have now picked seven points and have moved out of the relegation zone.