African All Stars
Norway experience has prepared Aberdeen new signing Chidiebere Nwakali for life in Scotland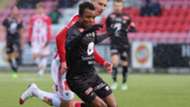 Aberdeen new signing Chidiebere Nwakali has been tipped to make an impact in a more demanding Scottish league.
The 21-year-old joined the Dons on loan from Manchester City after spending last season at Sogndal.
And according to Norwegian sports journalist Endre Romoren, the midfielder's experience in Norway would help ease him into a tougher Scottish Premier League.
Romoren acknowledged the former IK Start and Girona player's initial struggle in the country, but emphasised his laudable impact in a struggling Sogndal side last season.
"He is highly-rated – although he was a bit up and down," Romoren said.
"He struggled at the beginning, and had a few dips in form. He needed a bit of time to adjust.
"When he was at his best he was the team's best player last season – he stood at a different level to the rest of the squad.
"You could say he struggled with consistency. In addition, he played for a team that was struggling in big portions of last season.
"In the games where Sogndal were good, he was the stand-out player. Every time the team worked, he worked, but it was not the easiest team top perform in.
"He's calm and confident, and has moved around having also played in Spain.
"He's a young guy who is willing to go through the hard stuff.
"The Norwegian league is quite physical, although it is even tougher in Scotland.
"But I think he has the mentality and the strength to adapt to that."
Romoren highlighted the attacking game of Nwakali as his strongest but is convinced the player who netted four goals in 26 appearances for Sogndal last season has become a more rounded midfielder, having improved on the defensive aspect of his game.
"His main strength is the attacking part of the game. He is good on the ball, quick, he has a very good shot and good passing.
"When he was loaned to IK Start the year before he only focused on the attacking parts.
"They had to teach him the defensive side of the game when he came to Sogndal, but after a while they got him to be quite good at winning the ball as well, and he morphed into a box-to-box midfielder.
"He is not a big guy, but he is tough. He is not afraid to stand up for himself."
Nwakali was a member of the Nigeria U17 side that won the World Cup in 2013 and was recently invited to the senior national side that played Algeria and Argentina in November. But he is yet to make his international debut.