Arsenal
No ultimatum as Arsenal's Ozil and Alexis contract talks rumble on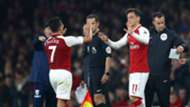 Arsenal have not issued a contract ultimatum to Mesut Ozil or Alexis Sanchez.
Talk over the future of the two attacking stars, whose deals run out at the end of this season, has dominated the agenda at Emirates Stadium for months.
Speaking ahead of Wednesday's Premier League trip to West Ham, Wenger responded to reports Ozil has been given a bumper final offer of £275,000 per week by confirming talks are ongoing with both players.
"The conversations are, as always, going on with everybody. Our door is always open. I cannot tell you much more," said the Arsenal boss.
"I have said many times we want to keep them and, at the moment, that's all we can say. The best way to deal with these kind of things is to keep it as discreet as possible."
Asked whether a "take-it-or-leave-it" offer had been made, Wenger replied: "No."
While Arsenal remain in discussions with Ozil and Sanchez regarding fresh terms, both men continue to generate intense transfer speculation ahead of the January window.
Manchester City are reported to still be keen on Sanchez, having missed out on his signature over the summer, while World Cup winner Ozil is apparently wanted by his former Real Madrid boss Jose Mourinho at Manchester United.