Africa Cup of Nations Qualification
'Nigeria's morale's high to defeat South Africa', says Christian Chukwu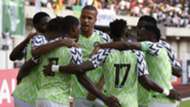 Former Nigeria coach Christian Chukwu is confident that the Super Eagles' morale is high and as such, he expects South Africa to fall in Saturday's 2019 Africa Cup of Nations qualifiers at the FNB Stadium.
The three-time African champions have maintained a 100% performance since they exit at the group stage of the 2018 World Cup.
They thumped Seychelles before defeating Libya home and away to climb to the summit of Group E with nine points from four games.
And the former international is confident that the recent impressive form will motivate Gernot Rohr's men to claim victory against Bafana Bafana.
"For the matches we have played away we did well. We beat Seychelles which South Africa could not beat in their home, we beat Libya home and away so our morale is very high now," Chukwu told Goal.
"And we are using that morale to face South Africa which I am sure will give us a good result."
The Super Eagles have not qualified for the tournament since they claimed the title in 2013 and a win in South Africa ensure they return to the finals.
"Gernot Rohr must map out a strategy for us to beat South Africa because once we beat them we have qualified," he continued.
"Losing is out of it entirely, so what we are looking for is win or draw."
Gernot Rohr's men will be without leading goalscorer Odion Ighalo as well as first-choice goalkeeper Francis Uzoho owing to injuries.
"It is not much of a concern because the team is not made of two people," he added.
"So we have other capable people waiting to get a chance and this is their chance maybe after they play we might not be talking about Ighalo and Uzoho again because that is football.
"Everybody is looking for an opportunity. The players that will replace them know that this is a big opportunity for them so I don't have any fear.
The team's captain John Obi Mikel has not featured for the west Africans since leading them at the World Cup in Russia while Victor Moses abruptly retired after the tournament.
"Mikel and Moses are not here and we are winning our matches, we won Libya. We have to know that one day a player must retire. Moses retired we should leave him to go, he knows himself.
"Mikel can be invited to boost the morale of the team but if he is not there to play he will give the younger once a chance.
"There is always a time you have to leave to give chance for the younger once. I am sure there is a good replacement for him already. We have to move on," he concluded.