Transfers
'Neymar 2000% staying at PSG' - Al-Khelaifi dismisses Real Madrid talk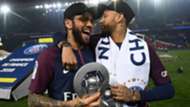 Paris Saint-Germain president Nasser Al-Khelaifi is "2000 per cent" sure Neymar will not leave the club in the next transfer window.
The Brazil star continues to be linked to Real Madrid, less than one year after his world record €222 million (£201m/$264m) move to the French capital from Barcelona.
Contracted to PSG for another four years and focusing on his return from injury ahead of the World Cup, Neymar has stayed quiet on a potential move.
And his club's chief insists there is no chance of the 26-year-old leaving any time soon, insisting the talk has been a fabrication from the media.
"Who says he can not stay here? Did anyone say that? No one," he said to reporters. "He has a contract with us, and he will stay, 2000%.
"Spanish media are still working for Spanish clubs and against the frenc clubs. And the french media I don't know who they are working for."
The rumours linking Neymar to the Santiago Bernabeu picked up this week when Madrid coach Zinedine Zidane said he and Cristiano Ronaldo would be compatible.
He has also been urged to make the switch by compatriot Vinicius Junior, who will soon arrive at Madrid, and Brazil legend Rivaldo, who believes it is his only path to becoming the best in the world.
Previously, outgoing PSG boss Unai Emery suggested the former Santos hero is not entirely happy in France, saying: "He goes to his house and shuts himself off.
"He's not there every day, but he's not yet immersed himself 100% in Paris, the French league, the difficulties, the different football."
However, the coach has previously maintained that, while he may be on the way out this summer, Neymar is not.
Neymar has been out of action since the end of February with a foot injury but scored 19 goals in 20 appearances in Ligue 1.