Tanzania Prisons
Mpepo: We respected Yanga as a big team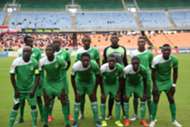 Tanzania Prison's attacking midfielder, Eliuta Mpepo has claimed that they defeated Yanga in their league match because they had a lot of respect for them before match.
Yanga headed into the game with a weak team which contained several second team players and only two players available on the bench.
Speaking after the match, Mpepo who opened the scoring in their 2-0 victory, said that they knew Yanga fif not approach the game with interest and that is why they did not travel with their key men but that could not stop them from playing well.
"We played with a lot of respect because Yanga is one of the biggest team in the land so we didn't look-down on them," said Mpepo.
The victory helped Prison to remain fourth at the table behind Yanga who have played less games than every other team.