Crystal Palace
Mourinho might belong in the Europa League final but Manchester United sure as hell don't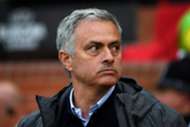 ---
COMMENT
---
Fourteen years later and Jose Mourinho is right back where it all started. He wanted to win that UEFA Cup for Porto in 2003 more than anything because he saw it as a springboard for his own legacy. Now he wants to win it again; in the intervening years, he didn't want to win it at all.
Dolberg in no hurry to leave Ajax
The emotion Mourinho demonstrated celebrating after the second leg against Celta Vigo in the semi-finals – whether genuine or put-on – characterised a man desperate to convince that this trophy meant something.
It has not always been like that – for Manchester United nor for Mourinho. It was a competition Patrice Evra was "embarrassed" to be in. It was a competition – famously – that Mourinho declared he did not want to win with Chelsea. It was not to be seen as his players' competition nor his own.
This year, it's means to an end. With it comes Champions League qualification. But Manchester United are looking for the backdoor into the Champions League. Mourinho's great achievement this season has not been reaching this stage, it's been making it seem as though he and United belong here in the first place.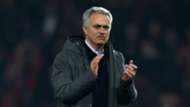 Mourinho's legend might have born in Gelsenkirchen when Porto won the Champions League in 2004 but it was conceived a year prior in Seville. That title victory was, in Mourinho's words in this week's official matchday programme, "the beginning of everything".
That season, Porto won everything they entered. They won the league, the Portuguese Cup and the UEFA Cup final against Celtic. There was a sense of destiny – not only about the players there like Ricardo Carvalho and Deco – but of Mourinho himself.
We first bore witness to the man who would do anything he could to tip the advantage towards his team. He was unashamed by winning.
Late in the semi-final first-leg against Lazio and with his team winning 4-1, he grabbed the shirt of Lucas Castroman who was about to take a quick throw-in right in front of the Porto dugout.
He got sent off – naturally – but he had prevented Lazio from taking a quick throw and creating one more chance that could have earned them a second away goal.
Pogba has not flopped at United
He watched the second leg from the stands alongside two club employees who ferried instructions down to the touchline via their laptops.
We saw Mourinho employ the same kind of tactic this season when he was sent off during the 0-0 draw at Old Trafford against Burnley and had his assistants ferry back and forth between the stands and the bench.
It was novelty back then – Mourinho hamming up his villainy – but now we see it for what it is. It's a trope; sleight of hand designed to detract from the lack of substance in his team, in his football.
Mourinho's act used to be fresh. He was brash; he was anti-football in the sense that not many successful coaches practised such open, unabashed hostility towards norms and established mechanisms.
His Porto team were accused of cheating in the final against Celtic and British audiences were outraged by what they perceived to be diving on the part of the Portuguese.
A classic Mourinho tactic was established after that game when he insisted it was Celtic who were cheating through the aggressive nature of their challenges; one of which from Bobo Balde on Deco, in the eyes of Mourinho, could have ended the playmaker's career. You could only marvel at his brass neck. It's worked like that throughout his career; jolting and shocking his players into performing by what he does or doesn't say in the media. 
We have to play the Ajax way - Bosz
But 14 years of it? Mourinho's force of personality has carried him through some tough times and earned him plenty of success, acclaim and money.
But he has left scorched earth pretty much everywhere he's worked other than Porto. Twice he brought Chelsea to its knees. He left Inter as a champion but the infrastructure was ageing and unsustainable. He left Real Madrid on the brink of institutional meltdown.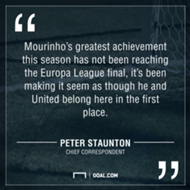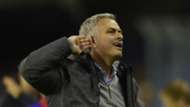 Success with Mourinho always came with a heavy price. He is getting diminishing returns. When you strip out the bluster, what's left?
His Manchester United team wins barely 50 per cent of the time yet he presides over the richest squad in football history. His lack of anything approaching a coherent attacking plan has left United unable to muster wins against even the more modest teams in the Premier League. He signed the best player in France, Italy and Germany last summer but it was not enough to prevent United registering fewer wins across a Premier League season than ever before.
He successfully convinced some observers that the aggregate victory against Celta Vigo was the most important game United ever played. That's Manchester United he's talking about; 20 league titles and three European Cups.
He has managed expectations so far downward that finishing sixth and winning the EFL Cup - and being in the Europa League final - is seen as the best they can do.
Ajax managed to qualify for the Champions League next season through their Eredivisie placing but that was too much to ask from United and Mourinho.
When the going got tough, he gave up. That betrayed a hollowness in Mourinho who has been widely hailed in the past as a man who would chase every trophy going. Now he's only going for the cheap ones.