Manchester United
Mourinho hails Lukaku display against old club Chelsea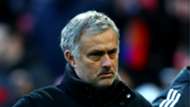 Jose Mourinho hailed the performance of striker Romelu Lukaku after he scored one and created the other in a 2-1 Premier League win against former club Chelsea on Sunday.
After Willian gave the Blues the lead at Old Trafford, Lukaku hauled United level by slotting in from close range after good combination play from Alexis Sanchez and Anthony Martial.
Lukaku then crossed for substitute Jesse Lingard to head in the winner for United, capping an all-action display with a powerful driving run to release pressure in added time.
While the goal was Lukaku's first against a top-eight Premier League club this season, it took him to 22 strikes in all competitions since joining United from Everton and Mourinho highlighted the Belgium international's performance.
"He played fantastically well. At first he didn't find the right timing and lost the ball at times," Mourinho told a post-match news conference.
"But then he went together with the team and finished the game and people go home with the image of the run where he could have gone and got a goal. It was important for us to open the gap."
United cut the advantage rivals Manchester City hold at the top of the Premier League table to 13 points, with Mourinho's men now six clear of fifth-placed Chelsea in the battle for Champions League qualification.
And although United conceded the first goal, Mourinho felt his side delivered a high-class performance against his old employers, where the Portuguese won three Premier League titles across two spells at Stamford Bridge.
"We want always the perfection. We are always the best when we have the pen and paper, but sometimes on the pitch it was different," Mourinho said.
"The work of Scott [McTominay] and [Nemanja] Matic was exceptional. We needed Paul [Pogba] and Alexis [Sanchez] to give us some balance in front of them. The players needed some time to adapt but I am really happy because from then they were intelligent.
"They understood the change of Lingard and [Eric] Bailly, when they brought on [Olivier] Giroud. I am very happy and a great attitude as well. We have four important matches at home and today was a good start.
A round of applause for our #MUFC Man of the Match v Chelsea: @RomeluLukaku9!  pic.twitter.com/eI7cn08FOZ

— Manchester United (@ManUtd) February 25, 2018
"You can only win against the top teams with that humble attitude. It can happen, the attitude has to be really special and the players showed that. 
"The beginning of the game was blue, we took some time to adapt to some new positions on the pitch, the players in the midfield took some time to press [N'Golo] Kante and [Danny] Drinkwater, but we found that balance. 
"In the second half we were solid, we didn't create a lot of chances as against Chelsea that is not possible."