Transfers
Mothobi Mvala wants to go big after Highlands Park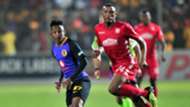 Highlands Park midfielder Mothobi Mvala says he would like to join one of the big PSL teams in the near future. 
However, the 24-year-old player admitted that he wouldn't mind staying put should the club decides against selling him. 
Mvala's exploits are known to have attracted interest from clubs such as Kaizer Chiefs, Mamelodi Sundowns and Orlando Pirates. He already has seven league goals under his belt this season. 
"It shows that I'm playing well and it gives me great confidence to do more work but there is nothing more I can do because I'm still contracted to Highlands Park," Mvala said on Vodacom Soccer.
Highlands Park head coach Owen Da Gama recently revealed that the Tembisa-based side rejected a R10-million offer for Mvala from one PSL club although he disclosed the name of the said club. 
"If the club is not willing to let me go then there is nothing I can do. So, my focus is on Highlands Park at the moment," the former South Africa under-23 international continued.
"It all depends on the club because I'm contracted to them. If they say 'Mothobi you can go', then I will definitely go. If they say stay there is nothing I can do because I'm still contracted to them and I have to honour my contract," he added.
Mvala admitted that he would like to play for a big club, but he added that he is still committed to the Lions of the North.
"It will be a good move for me if I can join one of the big teams. It is a dream of every player to play for one of the big teams, but if it doesn't happen there is nothing I can do," he concluded.
Mvala has been linked with Chiefs in the past, but the move never materialized and he focused on helping Highlands Park secure promotion to the PSL from National First Division (NFD).