MLS
MLS Talking Points: Dax McCarty's return, Desperation Derby in LA and more
For the second straight week, a reunion in the New York City area takes center stage in MLS. Last week it was Jason Kreis' return to Yankee Stadium — which turned out to be a winning one — and now it's Dax McCarty's turn to face the team that let him go.
That may be the best storyline of MLS Week 9, but it's definitely not the only one. The top two teams in MLS so far this season square off in a juicy Western Conference clash as unbeaten FC Dallas faces a dangerous Portland Timbers side that will still be a big threat even without injured playmaker Diego Valeri.
McCarty ready for emotional return
On the other end of the spectrum, we have the LA Galaxy taking on the Philadelphia Union in a clash of 2016 playoff teams mired in awful starts to the 2017 season. There may not be two coaches in MLS under more pressure than Curt Onalfo and Jim Curtin, making Saturday's meeting at StubHub Center a crucial one for both teams.
This weekend also features the latest edition of the Benny Feilhaber-Kyle Beckerman feud, which never lacks for intensity. An underrated match to keep an eye on is New York City FC's visit to Columbus, in what should be an entertaining battle between two teams committed to the possession game. 
The first match of Week 9 might just wind up being the most entertaining, as Houston travels to Toronto to take on a TFC side starting to look like the MLS Cup finalist we expected to be again. The Dynamo attack has ripped through some tough defenses, but won't find it easy going at BMO Field.
Here is a closer look at the key talking points heading into MLS Week 9:
---
IT'S A BIG WEEKEND FOR ... DAX MCCARTY
---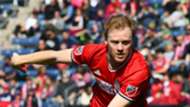 Dax McCarty will make an emotional return to Red Bull Arena on Saturday in his first visit since being traded away in January.
The Chicago Fire midfielder voiced his unhappiness with the way the trade was handled at the time, but it appears any lingering bad blood between McCarty and coach Jesse Marsch has been resolved, leaving us with what should still be an exciting matchup between two good Eastern Conference teams.
The Fire-Red Bulls battle will feature two of the best central midfields in the league, in a clash worth the price of admission. McCarty will look to contain Sacha Kljestan, while Felipe and Tyler Adams try to limit Bastian Schweinsteiger's impact on the match, which won't be easy. Fire midfielder Juninho will also have something to say about the proceedings in the middle of the field.
We shouldn't overlook the forwards who will be on display, with Bradley Wright-Phillips particularly dangerous at Red Bull Arena and Nemanja Nikolic enjoying a good transition into MLS. Chances might be tough to come by as the midfields neutralize each other, but the final result will be determined by the striker who can make the most of the chances that do come.
"The key for us is clearly to limit the amount of times that Brad and Sacha can get on the ball and be dangerous," McCarty told Goal. "For me, obviously the Red Bulls have a great team, I don't want to take anything away from any of the guys they have on the field. They're a team that's coached into a system that they play, and they run that system very well. They have an identity, everyone does their job, and when they're at home they do their job very well."
Fire coach Veljko Paunovic sees a very difficult challenge for his club Saturday, against one of the league's top teams.
"You have to run as much as they run, and you have to want it as much as they want it," Paunovic told Goal. "If we can match that, we for sure have the quality in our team, and are confident in our game plan that we can score goals and win.
"They're a very hard opponent when they play at home. They're high-pressing oriented, very good on set pieces, have a lot of talent and are a very diverse team. They're all on the same page when it comes to effort, commitment and willingness to win, so we have to match that if we want to win."
For all the improvements the Fire have made to their personnel, they are still battling a lingering stigma of being a bad road team. Last year, the Fire collected the fewest away points in the league (five) and managed just one win in 17 road matches. This season they are already off to a winless start on the road, and are coming off a 3-1 loss to Toronto FC in Canada.
"We have to change our mindset when we play on the road, and be more consistent," Paunovic said. "That's right now the challenge the team has in front of it. If we want to be successful this year, and reach the playoffs, we have to get points on the road. We have to be more solid defensively as a team."
Turning around their road form won't be easy at Red Bull Arena, where New York is 3-0-1 and boasted the most home wins in the league in 2016. Of course, last year the Red Bulls had McCarty, who will do his part to help his new team find success in the stadium he called home for the past six seasons.
---
DON'T MISS ... FC DALLAS vs. PORTLAND TIMBERS
---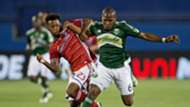 One of the best rivalries of the past few years, FC Dallas and Portland renew acquaintances in Texas this weekend in a battle for the unofficial title of best MLS team to start the 2017 season.
The Timbers will be without their best player in injured playmaker Diego Valeri, but Caleb Porter's side still has plenty of weapons, including Darlington Nagbe, who is coming off an outstanding match against Vancouver. Porter will have to think about sliding Nagbe into a central midfield role, unless he decides to go with Sebastian Blanco, who has plenty of experience in the position. Either way, the Timbers will face a daunting challenge from an FCD midfield led by Kellyn Acosta and Carlos Gruezo, who will make creating through the middle difficult.
Portland's Farfan tunes out chatter
Dallas matches up with the Timbers attack, as the center-back pairing of Matt Hedges and Walker Zimmerman is capable of containing Fanendo Adi, particularly if Nagbe or Blanco can't find a good rhythm in a central role.
Defensively, the Timbers have shown vulnerabilities and Dallas has the weapons to exploit that inconsistency. Maximiliano Urruti is sure to be up for facing his former team, while FCD wingers Roland Lamah and Michael Barrios should cause problems for Portland's fullbacks.
---
DESPERATION DERBY SEES GALAXY FACE UNION
---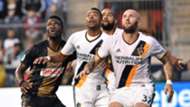 The LA Galaxy and Philadelphia Union came into the 2017 season with lofty aspirations. The Galaxy had a stacked roster that appeared capable of helping Curt Onalfo make a smooth transition as Bruce Arena's replacement, while the Union were confident they could build on last season's postseason appearance.
Things haven't quite worked out that way, at least not early on. The Galaxy have lost five of seven matches while the Union are the lone remaining winless team in MLS. Onalfo and Jim Curtin top most lists of coaches facing the most pressure on their jobs, and Saturday's match feels like it could wind up being an elimination game, with the loser looking for a new coach by Monday.
Realistically speaking, the Galaxy appear more likely to shake things up if they lose Saturday. With so much invested in keeping the Galaxy among the league's elite — and with looming MLS expansion team LAFC ready to set up shop in 2018 — the Galaxy would be hard-pressed to keep Onalfo in charge if they lose to the Union.
Curtin needs a result too, but he's probably not as close to the edge as Onalfo. That said, if the Union get demolished by the Galaxy, it could force a move and a change, which wouldn't bode well for the league's youngest coach.
The Galaxy will be favored to win, but desperation makes matches unpredictable. It could also lead to a pretty memorable match as both teams fight desperately for a result that just might save their coach's job. At least for another week.
---
MATCHUPS TO WATCH
---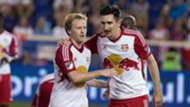 Sacha Kljestan vs. Dax McCarty. The matchup we've been waiting for since the January trade, old friends Kljestan and McCarty are two of the best in the league and now they battle to see who can grab the edge in this East showdown.
Fanendo Adi vs. Matt Hedges. Though he won't have lead assist man Diego Valeri around to provide service, Adi should still be a handful for Hedges, who will want to keep boosting his U.S. national team prospects.
Osvaldo Alonso vs. Lee Nguyen. The Revs playmaker will have his hands full trying to find space to operate with Alonso chasing him around.
Benny Feilhaber vs. Kyle Beckerman. These two longtime adversaries are known for disliking each other, which offers a good subplot in this Western Conference battle.
Darlington Nagbe vs. Kellyn Acosta. With Valeri out, Caleb Porter could slide Nagbe into a playmaker role, which would give us a chance to see these national team midfielders cross paths.
Alex vs. Michael Bradley. One of the season's underrated success stories, Alex is having an outstanding start to the season, but Bradley will make things very difficult at BMO Field on Friday.
Fredy Montero vs. Laurent Ciman. After giving up three goals to the Union, Montreal's once stingy defense will be eager to tighten things up. Ciman must defend well or Montero could have a field day.
Wil Trapp vs. Maximiliano Moralez
. Losing Artur to a broken wrist is a big blow for the Crew, but they still have Trapp, who will need to contain the quick Argentine playmaker if the Crew are going to record a home win.
Kevin Molino vs. Nick Lima. The early frontrunner for MLS Rookie of the Year, Lima will face a very tricky challenge from Molino. And even if Molino plays on the other wing, Miguel Ibarra could test Lima as well.
Jermaine Jones vs. Haris Medunjanin. This won't necessarily be a head-to-head matchup, but both men are key to their teams' ability to win the possession battle, and Medunjanin's excellent passing from deep in midfield is something Jones will need to try and stop.
---
WEEK 9 PREDICTIONS
---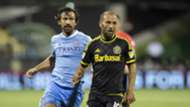 TORONTO FC 3, Dynamo 1. As much as Wilmer Cabrera struck a better balance for his team in a 4-4-2 last week, the challenge is much tougher on Toronto, where Sebastian Giovinco is hitting his stride.
IMPACT 2, Whitecaps 1. The Whitecaps can be a handful in attack, particularly with Fredy Montero, but the Impact will come in confident after last week's inspired comeback in Philly, with Matteo Mancosu leading the charge.
ORLANDO CITY 2, Rapids 0. The Lions defense is super stingy at home and the Rapids can't really generate chances anywhere, so the only real question seems to be how many Cyle Larin will score to go with the Orlando shutout? We say two.
CREW 1, NYCFC 2. A road trip might not be a bad thing for Patrick Vieira's men, but the Crew are no pushover, and had been playing well before the loss to the Red Bulls. Artur's absence will be felt once again though as David Villa finds the net.
RED BULLS 2, Fire 1. Dax McCarty's return is getting the headlines, but you know Jesse Marsch wants to show his Red Bulls are fine without their former captain. With Sacha Kljestan and Dax McCarty neutralizing each other, look for Daniel Royer to make the difference.
FC DALLAS 3, Timbers 2. While last week's clash with Sporting KC was destined to be a defensive struggle, Dallas should face a foe ready to let loose and attack, even without Diego Valeri. Oscar Pareja's squad can definitely play that game, which should give us one of the games of the year.
MINNESOTA UNITED 2, Earthquakes 1. The Loons are legit. Well, at the very least they aren't "all-time worst" bad, as first thought. They're feasting on a weak schedule, and that feast continues with a home win led by Christian Ramirez.
SPORTING KC 2, Real Salt Lake 0. A return home should suit Sporting KC, and taking on an RSL squad in a state of transition should also help. Dom Dwyer finds success while Tim Melia posts another shutout.
SOUNDERS 3, Revolution 1. The Sounders have found their mojo, and opponents had better beware. Clint Dempsey is hitting his stride and Jordan Morris looks to have early struggles behind him. The Revs will struggle to stop them.
GALAXY 2, Union 1. The Galaxy may be a team in disarray, but they still have a talent edge on the Union, and Romain Alessandrini should have a big game against Philly.
ATLANTA UNITED 3, D.C. United 1. As more and more people come to the realization that Atlanta is one of the best teams in the league, it becomes easier to see why they'll be heavy favorites against inconsistent teams like D.C. United. Miguel Almiron has a field day Sunday.