MLS
MLS Spotlight: Raheem Edwards humbled by quick rise with Toronto FC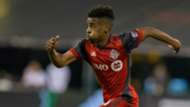 TORONTO — Speed has always been a big part of Raheem Edwards' game, but even he couldn't predict how quickly he'd integrate himself into Toronto FC's first team.
The 21-year-old ran the gamut of the TFC pyramid in relatively short order. He joined the TFC academy as a late-bloomer in 2014 and quickly transitioned to Toronto FC II of the USL, where he stood out for two seasons.
After getting a brief taste of first team duty in 2016 while still under contract with TFCII, Edwards signed an MLS deal earlier this year following a successful preseason with Greg Vanney's side.
It was from there that things really began to pick up. Edwards earned his first start within a month.
As his playing time grew so did his output, with the youngster's five assists good enough for seventh place in the league.
"Honestly, I wanted to get five assists during the whole season, and I'm already at the stage so now I'm trying to up it to 10," Edwards told Goal, adding that his biggest aim for 2017 is constant improvement and to "just continue to play."
That he's already talking about reaching double digits in the assists category speaks volumes about Edwards' confidence, as only 10 players recorded more assists in 2016 than the Mississauga, Ontario, native's personal goal for this year. 
That level of self-belief is a substantial part of Edwards' growing game, according to his coach.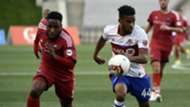 "He's got a lot of confidence," Vanney said earlier this year. "He's got a lot of ability both with the ball and athletically. He uses all of those gifts, and the more time he is out there I think the more things he's starting to recognize and see.
"I think he's proven very clearly that he is fully capable of playing at this level and fully capable of being an important member of this team."
As quickly as Edwards has made himself a key component of Vanney's high-flying squad, it took a bit of an adjustment. Primarily used as an attacking player throughout the youth levels, Edwards was asked to learn how to be a wing back in Toronto's preferred 3-5-2 formation, which required a bit of adaptation on the fly.
"I got thrust into the wing back position," Edwards explained. "But I'm more of an out-and-out winger. You can put me on the left side or the right side, or you could even put me up top in one of those two [forward] positions."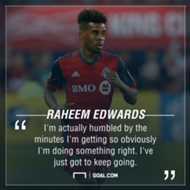 It was in a more advanced role that Edwards got his first taste of first-team soccer as a short-term call-up from the USL last year. He played the final few minutes of TFC's Voyageurs Cup-winning game in Vancouver last June, followed by a late cameo against the Seattle Sounders at CenturyLink Field a few days later.
With TFC moving to the 3-5-2 during the team's run to the 2016 MLS Cup final, Vanney needed more players capable of playing in the wing back position. Trying to win his first MLS contract in the spring, Edwards was tested and ultimately succeeded in earning a spot in a new capacity.
"I like the wing back role. Obviously it's my first year with it, but I'm more comfortable with it now, going through the games [so far]," Edwards said, noting that he still has areas in which he can improve. "I need [a few] little things to touch up on defensively. Just defensive positioning and where to be. I need to be slightly better."
Zambrano wants Bernier to delay retirement
His speedy rise as one of the league's most promising young players will depend on his ability to continue to make himself indispensable to his coach and teammates.
"If you want to be a young player [in MLS], obviously you want to get as many games as you can," Edwards said. "I thought I've been playing decently good minutes for a rookie, and especially on a team like this. 
"I'm actually humbled by the minutes I'm getting so obviously I'm doing something right. I've just got to keep going."