Manchester United
Mkhitaryan explains how he came through 'black days' at Man Utd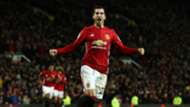 Henrikh Mkhitaryan admits he had to come through some "black days" before proving himself at Manchester United.
The Armenian generated quite a buzz at Old Trafford after completing a big-money move from Borussia Dortmund in the summer of 2016.
Mkhi: Don't expect Pogba miracles
He was, however, to be eased into Premier League life by Jose Mourinho, with his first start lasting just 45 minutes in a derby date with Manchester City on September 10.
Mkhitaryan slipped into the shadows after that outing and was not seen again for the best part of two months.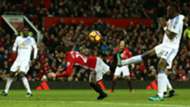 He still had some work to do convincing Mourinho of his worth, but a positive run through December – which included a remarkable scorpion kick goal against Sunderland – has earned him a regular role.
The 28-year-old is now enjoying his football again and is delighted to have seen his positivity during a testing period rewarded with a return to form and favour in the eyes of United's management team and supporters.
Smalling warns Man Utd over Leicester
Mkhitaryan told Sky Sports: "I really enjoy my life in Manchester, my training, my games, everything.
"I have settled very well and I'm working very hard to get better because I know I can do more.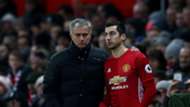 "Coming to Manchester, maybe I didn't show all my potential but in every game I'm trying to do my best because it's very important for me, the fans and the club. Maybe in some games it doesn't work, but I still keep working and trying to improve.
"You cannot always have good times in your life. Sometimes you have black days and maybe I wasn't expecting that but I was ready because I had such a situation in Dortmund already.
The truth: Mou is right about Martial
"Everything comes from your mind. You have to push yourself to get things going in your direction. If you are stubborn, nothing will help. If you are sad, nothing will help. You have to keep positive and to work very well for your next chance."
Mkhitaryan now has four goals in 20 appearances for the Red Devils this season, helping Mourinho's men to remain competitive on Premier League, FA Cup, EFL Cup and Europa League fronts.