Egypt
Mido and Egypt fail to reach agreement to be Javier Aguirre's assistant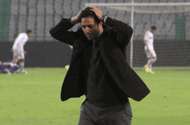 The Egyptian Football Association (EFA) and Mido have failed to reach an agreement over the possibility of roping in the former international striker into new manager Javier Aguirre's coaching staff.
Efforts by EFA to have Mido join the Pharaohs set-up as Aguirre's assistant coach hit a brick wall after talks had been opened.
Aguirre was appointed Egypt coach at the beginning of this month to replace Argentine Hector Cuper, who was fired following a horrible World Cup outing.
With the assembling of Aguirre's background staff yet to be completed, Efa turned to Mido as a possible assistant to the 59-year-old Mexican.
Mido has been unemployed since leaving Wadi Degla last year.
The former Ajax Amsterdam and Roma striker confirmed that discussions with EFA drew blanks.
"I want to thank (EFA president) Hani Abou-Rida and most EFA board members for nominating me to be part of the Egypt national team coaching staff which is a huge honour to be part of the national team coaching staff," Mido tweeted.
"But unfortunately our negotiations didn't work out. Best of luck to the new coaching staff in the upcoming period."
اشكر المهندس هاني ابوريده ومعظم أعضاء مجلس إدارة اتحاد الكرة على ترشيحهم لي للعمل في الجهاز الفني بمنتخب مصر وهو شرف كبير لي ان أكون ضمن أعضاء الجهاز الفني لمنتخبنا الوطني ولكن للاسف مفاوضتنا لم يكتب لها النجاح..بالتوفيق لمنتخبنا الوطني مع الجهاز الجديد في الفتره المهمه القادمة.

— Mido (@midoahm) August 12, 2018
The Egyptian football mother body will now look elsewhere for Aguirre's understudy as next month's 2019 Africa Cup of Nations (Afcon) qualifying showdown with Niger at home is fast approaching.
Aguirre has promised a new football philosophy for Egypt, whose Afcon bid started undesirably with a 1-0 away loss to Tunisia.