Orlando Pirates
Michael Morton: I am who I am because of Orlando Pirates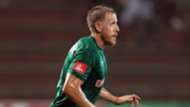 AmaZulu FC central midfielder Michael Morton his reflected on his football career which began at Orlando Pirates.
The upcoming 2018/19 campaign will be the 29-year-old player's 10th season in professional football having made his Premier Soccer League debut a decade ago.  
Morton started his career at Pirates during the 2008/09 season and he went on to play for Bidvest Wits, Maritzburg United, SuperSport United and AmaZulu in the elite league. 

"Next year I will be 30. I want to find a home for myself. AmaZulu's that type of a club; they are a family. There is a nice unity and a good group of guys. We've got some young players. I feel like I can give back to a lot of these youngsters, so definitely looking to make AmaZulu my home," Morton was quoted as saying by IOL.
In 2011, Bucs sold him to Maritzburg having spent some time with Wits on loan. SuperSport signed Morton, who was nurtured in the Pirates development academy from Maritzburg in 2014. 
"It was disappointing for me having to leave Pirates who I supported growing up. I used to go to all the Soweto derbies, analysing the Gift Leremi's of this world, Benedict Vilakazi and all those guys. They were some of my favourite players. It was difficult to break through and the thing with me is that I'm an impatient individual," he said.  
When I was breaking through at 19, they had a great bunch of good players. I couldn't break in to the first team and I went to the chairman (Irvin Khoza) and said 'Mr Chairman, I want to play football'. I'm so grateful to him for allowing me an opportunity to go to Wits on loan for those two years because it made me the player that I am. I owe a lot to Irvin and Pirates," he explained.
Morton revealed that he was inspired by the legendary duo of Siyabonga 'Bhele' Nomvethe and Mabhuti Khenyeza, who are his team-mates at AmaZulu.
"Bhele is 40 but still going strong. So I also think, I have another 10 years and that's why I can't think about retirement now. And AmaZulu is that type of the club where if you do well, you make yourself a legend of the club. Mabhuti Khenyeza and Bhele are good assets for the team, and it will be nice to follow in their footsteps." he added.
The Johannesburg-born player has won three Nedbank Cup trophies plus a Telkom Knockout trophy with SuperSport.
"It is nice that I have represented clubs with big reputations in South African football. Obviously, I started my career at Pirates. They were responsible for making me the player I am today. I spent seven years in their development programme," he added.
A lot of who I am is because of Pirates. At Wits I spent two years on loan. During my time with Maritzburg United, I worked with top players like Derlon Buckley and Dillon Shepard. I learnt a lot from them as well. At the peak of my career, I went to SuperSport," he continued.
When I left Maritzburg, I said, I wanted to win trophies. I was lucky enough to win a number of Nedbank Cups and the Telkom Knockout. That was a great time of my career," Morton concluded.