Mexico
Mexico isn't afraid of Cristiano Ronaldo, but should it be?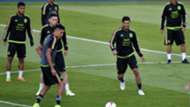 How do you stop a player like Cristiano Ronaldo? It's a question many managers have tried and failed to answer, and it's Mexico coach Juan Carlos Osorio's turn to try and keep the Portugal attacker silent as El Tri open their Confederations Cup campaign against Ronaldo and the Selecao.
Heading into Sunday's group match, Mexico has expressed respect and admiration for the Real Madrid superstar, but there's one emotion players said cannot – no, must not – enter into the equation: fear. Mexico's players have watched film on the attacker, understand what he will try to do and know it will be a tough task to keep him from scoring, but it is not afraid of Cristiano Ronaldo.
Confederations Cup a big opportunity for Osorio
Maybe it should be. The team has an obvious hole at right back, where there's no player in the squad who regularly plays there for his club. Whoever has to defend Ronaldo, and it very will could be new Frankfurt signing Carlos Salcedo either as a right back with a four-man back line or if he's pushed up but still wide right in a 3-4-3, will not be entirely used to playing there and will have his hands full.
"I don't have any fear marking a player who right now is doing big things with his club and, knowing coach Osorio, it won't be only Carlos Salcedo in charge of making that happen, making sure we're successful," Salcedo told ESPN. "It's a small part, but it's also going on the time we have on the ball, the good circulation of the ball we have, two on one situations that we like to do on the field."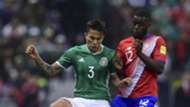 That's admirable of Salcedo, and his larger point is a good one. Leaving one player to man mark Ronaldo is a more foolish game than three-card monte, and Osorio is no fool. It will take a team effort to keep one of the world's best players from punishing an individual defensive error. Osorio also may be tempted to put Miguel Layun, who mostly plays as a left back but has seen plenty of time on the right side since Osorio's arrival in late 2015, in to look after Ronaldo.
That would mean starting an inexperienced player, like Atlas defender Luis Reyes, who just a year ago was playing in the Mexican lower divisions, in on the left side where Portugal could take advantage like the United States did in last week's World Cup qualifier.
"We know the kind of player he is, but aside from him they also have other quality players who we have to neutralize," goalkeeper Guillermo Ochoa told reporters in Russia. "That's what's important, the key. It's going to be a game of Mexico's squad against Portugal. It's going to be a great game with good players on both teams."
Of course, Portugal showed in last year's Euro final that it can be a team that's tough to beat even without Ronaldo on the field. Between Ricardo Quaresma, who entered for Ronaldo after he left the final in the 20th minute because of an injury, veteran Nani and emerging Sporting star Gelson Martins, there are many players and points of attack where Portugal can hit a defense.
Russia put a smile on Putin's face
"The collective is above the individual, but it is clear that not only in Cristiano, also in Nani, Martins and Quaresma, they have elite players," Osorio said after arriving in Russia. "We also think that ours can do a very good job.
"We come to compete not against Cristiano Ronaldo, but against the Portuguese national team. Obviously we will have special considerations for him, for the magnificent player that he is."
They must. For now, they don't have fear of Ronaldo either. That's the right approach to take heading into the game, but one can't help but wonder if Mexico will be able to find the answer to that question that has vexed so many teams in the past, and if after the match they'll be afraid of having to face him ever again.