Barcelona
Messi on a mission: Barcelona are Champions League favourites but only because of Leo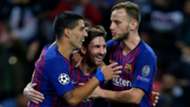 It's going to be hard to identify the best team in this season's Champions League for a few rounds yet, but we already know who the best player is going to be.
Lionel Messi is playing like a man who has had enough of Real Madrid carting off the biggest club trophy in the world.
His pre-season speech – the first one made as Barca captain – was laden with references to the Champions League and the necessity to bring it back to Camp Nou.
It's not quite a one-man mission but one which would for Barca be utterly futile to embark on it without the man who has so often proven their saviour.
Messi has watched on as over the past few seasons the likes of Carles Puyol, Dani Alves, Xavi, Neymar and Andres Iniesta have departed for pastures new. Their replacements – with all due respect – have been of varying quality.
Meanwhile, stability brought unprecedented success for Real Madrid, who could more or less pick the same high class 13 or 14 players every week for three seasons.
Messi remains as good as he's ever been, only now he's not just the best forward in the world; he might well be the best playmaker too. He was both here at Wembley on Wednesday night, as Barca triumphed 4-2 over Tottenham. 
Sometimes you get the impression that if you played as Messi does down at your local five-a-side you wouldn't get much exercise. He walks into position, lingers comically offside until it suits him to saunter back and conducts most of his business at a light jog.
But it would be to miss the point entirely if you felt he wasn't putting the work in. Messi's work is different work to any of the other players. And often it seems as though he's the only one on current form – Gerard Pique and Sergio Busquets included – who would make it into the great Barca teams of the recent past.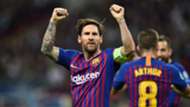 The first time he scampered to get involved for Barca against Spurs he played one of those telepathic passes to Jordi Alba. It was just a few seconds later that Philippe Coutinho had the ball in the net.
The definition of 'pass', however, doesn't do it justice. There is something in the timing and texture of a Messi pass that makes a defender thinks he can get to it. They take the bait every single time.
He jogged a bit more, then he hit a pass of similar quality to Luis Suarez inside the box. Coutinho did some magic of his own to keep the ball alive before Ivan Rakitic stunned Wembley into silence with a thumping finish of world-class quality.
How far Messi ran or how often he touched the ball didn't matter. Barca's football is plainly not as it once was; they struggle for control and dominance in the midfield. They are horribly susceptible to counter-attacks. But once the ball is around Messi, they all of a sudden look venomous.
He had enough of passing by the time the second half kicked off. A quick hug on the halfway line at the kick-off from Erik Lamela was as close as anyone got to him after the break.
He turned on the jets, went around Tottenham's pair of centre-backs like he was going around his dog Senor Hulk in the back garden.
Maybe it's the damage that the heavyweight title fight between Anthony Joshua and Sergei Povetkin did to the Wembley grass 10 days ago that meant Messi would only find Hugo Lloris's post with the shot thereafter because everything to that point was so perfect and deliberate.
Shortly after he damn near repeated the sequence step for step. The kicker this time was that in the aftermath – when his perfect pass to Jordi Alba after the rebound tempted Lloris to win the ball – Spurs went down the other end and scored a good goal of their own through Harry Kane.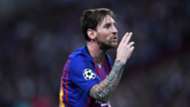 Messi was furious... with himself. How could he be so lax? Those wrongs were soon corrected. 
This Wembley crowd worked themselves into a frenzy all throughout the game as Felix Zwyer's whistle stopped Spurs in their tracks time and again. Barca's players are clever; they know when to take the sting out of a game. 
And Kane's goal had the decibels rising. Momentarily, they believed, and with good reason. Barca aren't all that. That belief lasted until Messi found Alba and Alba found Messi and Messi finally found that cursed bottom corner.
It was the goal he deserved. It was a goal – despite the best efforts of Lamela who scored again – which put the game out of reach of Spurs.
They knocked on the door and it would have been no surprise to see them draw level. They couldn't apply the finishing touch however and that left the danger lurking. 
To the sound of 90,000 seats thwacking upward, Messi finished them off with his fifth goal in this season's Champions League.
Again it was Alba with the cross, again it was Suarez with the step over and again Messi scored. Goodnight. 
This was a contest between two quite even teams. Make no mistake, Barca are flawed. But with Messi everything is possible and nothing is out of reach.
So, if you're struggling to predict who might win the Champions League this season, maybe settle on the team who has him.