A-League
Melbourne City's Fernando Brandan out for season with ACL injury
Melbourne City attacker Fernando Brandan will miss the rest of the season after injuring his anterior cruciate ligament (ACL).
The Argentine, who has made 19 appearances for Michael Valkanis' side this season, suffered the injury in training and will undergo an immediate rehabilitation program.
While it's expected Melbourne City will seek an injury replacement player, it may present an opportunity for Bruce Kamau or Nick Fitzgerald to gain more playing time.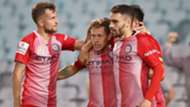 "Melbourne City FC forward Fernando Brandan has suffered an injury to his anterior cruciate ligament (ACL) during training, and will now undergo a rehabilitation program,'' City said via a statement.
"The club wishes Fernando the best in his recovery."
Brandan has scored three goals and assisted three more this season but is now unlikely to feature until the back end of the 2017-18 season.