Transfers
Mariners confirm O'Donovan, Izzo exits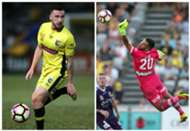 Central Coast Mariners have confirmed Roy O'Donovan and Paul Izzo will leave the club, with Newcastle Jets and Adelaide United set to benefit.
The Jets subsequently unveiled O'Donovan as a new recruit on Wednesday, as did Adelaide with Izzo.
Izzo has signed a three-year deal with the Reds, while O'Donovan has committed to two seasons with Newcastle.
Speaking about crossing the F3 Derby divide, O'Donovan said in a statement: "Obviously the Jets are transitioning between managers and there are a lot of players out of contract, but if we can get the right type of creative players in the team then I sense that we will be able to push on. 
"Obviously joining from Central Coast will be seen as a little bit controversial, but as a professional footballer this is the next step in my career."
COMMENT: Jones deserved to work with O'Donovan
Mariners coach Paul Okon said: "Roy has been an important player for us this season and although it's disappointing to see him join our closest rival, it will certainly add fire to the F3Derby next season."
O'Donovan, 31, leaves Central Coast after scoring 19 goals in 45 A-League appearances over the past two seasons.
The Irish striker was reportedly also a target for Western Sydney Wanderers and Brisbane Roar, while Central Coast is understood to have offered him an improved contract, although that was still less than what he could earn elsewhere in the A-League.
Jets part ways with Mark Jones
Izzo, 22, ends his stint in Gosford with 42 A-League games under his belt and four clean sheets.
The young goalkeeper is expected to return to his hometown of Adelaide to join the Reds and effectively replace Eugene Galekovic, who is on record saying 2016-17 is likely to be his last season in South Australia.
"It's very tough for me to leave the Mariners," Izzo said.
McGowan thrilled with Adelaide's vital ACL victory
"This season we've seen how good things can get at this club and how good they can be so it was a hard decision [to leave].
"[Central Coast's goalkeeping coach] Matt Nash has done so much for me, he never gave up on me and has put so much time and hard work into me.
"I want to say a huge thanks to the Central Coast Mariners who took a big gamble on me. It took time for me to put in a strong season. They were very patient and showed a lot of faith in me."
Izzo and O'Donovan spent the past two years with Central Coast, joining the Mariners from Adelaide and Indonesian club Mitra Kutai, respectively.