Serie A
Maradona cost twice as much as Ronaldo, claims former Napoli president Ferlaino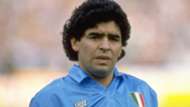 Former Napoli president Corrado Ferlaino claims Diego Maradona cost the club "double what Cristiano Ronaldo would cost today" after the star joined from Barcelona in 1984.
The Serie A outfit splashed out a then-world record transfer fee of £5 million to acquire the mercurial Argentine, who had previously broken the same record when arriving at Camp Nou.
Messi v Ronaldo: The race to 100 CL goals
Maradona would provide the inspiration for a remarkable era of success in Naples, as two Italian league titles and the UEFA Cup were captured.
He would also lead Argentina to World Cup glory in 1986, with his legacy as one of the all-time greats firmly cemented.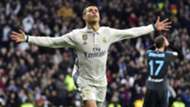 Many, though, had raised their eyebrows when Napoli spent big on luring him away from Catalonia.
Ferlaino insists he always knew what he was getting and believes the deal required to land Maradona would eclipse any transfer involving the global superstars of today, such as Real Madrid talisman Ronaldo.
He told AS: "He cost double what Cristiano would cost today.
How Juve nearly signed Ronaldo
"The intellectuals criticised me - they said Napoli was a poor city and it was immoral. But it was my money, and I wanted to spend it that way.
"When I signed the contract in Barcelona, I went to a bar and ordered a whisky on the rocks.
"The waiter said to me: 'Are you Italian? What a great deal we're getting out of this with Maradona - he's fat.' I didn't enjoy that drink at all."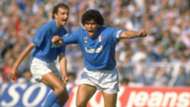 Comparisons to the iconic Maradona are drawn every time a fresh face bursts onto the scene, with Ronaldo and Barcelona forward Lionel Messi competing for their own place in the history books.
Ferlaino feels it would be wrong to put the Portuguese in the same bracket as Maradona, but admits Messi still has work to do if he is to enjoy a standing alongside his illustrious countryman in the years to come.
'Inter used Messi for fans' dreams'
He added: "A comparison with Cristiano makes no sense as they play in different positions.
"Messi though, plays in a very strong Argentina team and does not win anything, while Maradona had some pretty bad players alongside him and won a World Cup. So..."