Manchester City
Manchester City say bye-bye to body odour as the English champions announce deal with Rexona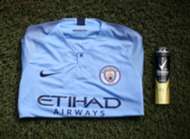 English Premier League champions Manchester City will not have to worry about the smell of sweat after their matches, especially after the club had announced a global multi-year partnership with Rexona.
Rexona will now be the Club's Official Personal Care Partner. Rexona, which is functions as Sure in the United Kingdom and Degree in the United States, will also partner with City's sister club New York City FC.
Rexona was founded in Australia in 1908 and is now the world's leading anti-perspirant brand, having joined the Unilever family in the 1930s. This new partnership builds on the market leader's already established portfolio of relationships with sports organisations and individuals.
Through this partnership, Rexona, Sure and Degree will launch special City-branded anti- perspirant products and branding will appear across the Etihad Stadium. Rexona customers will also get the chance to win 'money can't buy' trips to Manchester to see the City team in action and exclusive prizes from the Club.