Simba
Manara pleased with the performance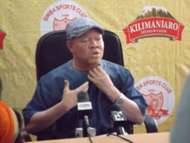 Simba's spokesman Hajji Manara is pleased with the performance of the team's players although they didn't make it to the next step of the CAF Confederation Cup after playing a goalless draw with Al Masry in Port Said, Egypt on Saturday.
In the first leg clash which was held in Dar es Salaam, the results were 2-2.
Speaking after the clash, Manara said that the players desire to progress into the next stage of this tournament were shown clear on the pitch but conceded that Al Masry is one among the strongest team to play against.
Manara said that now they will fully concentrate on the Ligi Kuu remaining matches in order to win the title and get the chance in the tournament again next season.
"Our players foght for the team throughout the game but unfortunately the results were not in our way, now we are coming back to see off the remaining Ligi Kuu matches in order to get another chance in the next tournament" said Manara.
Currently, Simba lead the Ligi Kuu table only ahead by goal difference from their arch rival Yanga who sit second both with 46 points but Simba have one game in hand.