José Mourinho
Man Utd boss Mourinho claims to always pick teams in 'big trouble'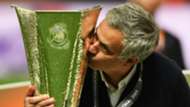 Jose Mourinho claims to be "terrible at picking teams", with Manchester United, Inter and Real Madrid taken on in "big trouble".
The Portuguese tactician has enjoyed success wherever he has been, with a productive spell at Porto putting him on the path to greatness.
'Man Utd need Pogba-like signings'
He is, however, of the opinion that he inherited testing situations in Italy, Spain and England before turning fortunes around.
Mourinho was quick to bill himself as "a special one" upon taking the reins at Chelsea, and it appears that he continues to revel in that role.
He told Portuguese newspaper Expresso: "I'm terrible at picking teams.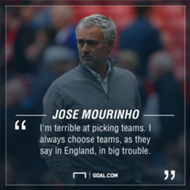 "I always choose teams, as they say in England, in big trouble.
"Inter was in big trouble, Real Madrid was in big trouble, Manchester United in big trouble, that is, always in big trouble."
Lindelof a statement signing for Utd
Mourinho guided Inter to a historic treble during his time at the San Siro, with Serie A, Coppa Italia and Champions League crowns secured.
He then went on to return the La Liga title to Madrid during his time in Spain, before heading back to the Premier League.
More title success followed at Chelsea, before succeeding Louis van Gaal at Manchester United and leading them to Community Shield, EFL Cup and Europa League glory in his first season at the helm.