Southeast Asian Games
Man of the match: Septian Maulana

When Indonesia grabbed a vital equaliser against Thailand that meant that their match finished 1-1, it wasn't just a point gained in the running to be one of the top two teams in Group B of the 2017 KL SEA Games but it also provided great hope to the rest of the competition.
Thailand had come into the tournament almost as an unbeatable side, one which strikes fear into the hearts and minds of all the other teams in the competition. But the result showed that with the right application and desire, no team is beyond reproach in this tournament.
Septian Maulana would be remembered as the one who scored against the Thais, the first one to do so since Vietnam managed to put one past them in the group stage back in 2015. While it was only a penalty, which Maulana easily sent Nont Muangngam the wrong way to net in the 60th minute.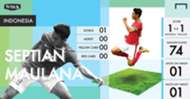 Together with Osvaldo Haays, Maulana were the main threats coming from the Indonesian side who contained Thailand brilliantly. Timing his runs from midfield to perfection, Maulana escaped the marking from the War Elphants to get at the end of crosses from wide but was just unable to convert those chances.
With the quality that they possess in their team, Indonesia should find easier rides against Cambodia, Timor Leste and Philippines. The biggest obstacle to them reaching the semi-final stage is Vietnam. Having done what many deemed impossible against Thailand, it will be hard now to doubt Maulana and his team mates.