Mamelodi Sundowns
Mamelodi Sundowns crowned 2017/18 PSL champions
South Africa Chief Editor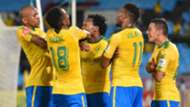 Mamelodi Sundowns have been crowned as the winners of the 2017/18 Premier Soccer League season.
Despite their draw against Bloemfontein Celtic, the Brazilians still claime their eighth PSL title in the PSL era. 
Sundowns went into the encounter knowing that they had already secured the title, and it was a matter of formality as the took on Phunya Sele Sele.
With the draw, Pitso Mosimane's men have accumulated 60 points, meaning on average, they have collected two points in each of their 30 league games.  
No other other team has won more league tiles than Sundowns in the PSL era, and that alone makes them the undisputed kings of South African football. 
They have now qualified for next year's Caf Champions League; a feat which they had long been battling for prior to Mosimane's arrival. 
Sundowns have now won three league titles in the last five years, and all three have been won by a man who was dumped by the South African Football Association (Safa) almost five years. 
Mosimane said he knew where the title was, and he vowed to get it back this season. He certainly did, and credit to him and his team for clinching it with a game to spare.