Selangor
MSL2018 midterm report card: Selangor and PKNP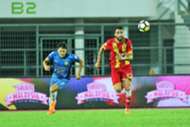 ---
BY        ZULHILMI ZAINAL       Follow on Twitter
---
Team: Selangor
Current position: 8th
Grade: C
The last time the The Red Giants won the Malaysia Super League (MSL) title was back in 2010, and even before the 2018 season started hardly anyone was betting on them to break JDT's dominance in the league this year.
In the pre-season we predicted that they will finish in the fifth spot, but after ten rounds were played Selangor are not even in the top half, as they are currently eighth in the standings, on eleven points.
Despite starting the season with two back-to-back wins, they would then lose four consecutive matches, a poor run that would bring about the board's decision to 'rest' head coach Maniam Pachaiappan. Unproven assistant head coach Nazliazmi Nasir would then be handed his first ever senior team head coach job, but he could only maintain his new charges' league form and not improve on it.
Out of five league matches under Maniam, two ended in wins while the remaining three ended in defeats. Selangor under Nazliazmi could only record one league win, two defeats and two draws.
Although Spanish striker Rufino Segovia is currently leading the goal scoring chart with his eight league goals, his teammates have only scored five in total. The defence meanwhile have been doing very little to help the team, having conceded 21 goals so far. Only Kuala Lumpur in ninth place and last placed Negeri Sembilan have worse goals conceded records, 22 respectively. By comparison, PKNP FC in seventh place have only scored 10 goals; third lowest in the league, but have only let in twelve goals.
Their poor performance can be chalked down to the pre-season signings who haven't risen to the challenge. Former Malaysia international Azamuddin Akil have spent most his time this season sidelined by injury, while Joseph Kalang Tie has not been providing as much threat to their opponents as the fans would have liked. In the meantime, although Sean Selvaraj has shown improvement, has not been progressing as proportionally as the playing time he has been receiving.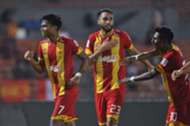 Sean Selvaraj (left). Photo from Football Malaysia LLP
But most evidently, their pre-season foreign signings too are proving to be duds. Indonesian duo Evan Dimas Darmono and Ilham Udin Armaiyn, signed from 2017 Indonesian champions Bhayangkara FC, showed potential in the beginning, but have not been contributing any impact in the past few matches. Not to mention that Selangor have been caving in to the Indonesia FA's repeated requests for the duo to be released so they could play in tin-pot tournaments, thus missing key league clashes.
However,  they are not even the worst foreign signings Selangor have made this season. Just before the season kicked off they announced the last-minute signing of Spanish defender Alfonso de la Cruz, but as a defensive midfielder. Almost immediately Alfonso proved to be ineffective, and in their 3-1 defeat at home to Pahang he was substituted off after a little over half an hour. He then made only sporadic appearances, before returning to the starting line-up in their two most recent matches, this time as a centre back. Both matches ended in draws after Selangor have taken the lead.
Despite the impending return of promising young winger Syahmi Safari after a five-match absence due to injury, it is unlikely that the Red Giants' fortunes will change in the second half of the league. They have been cash-strapped, which means that mid-season signings are rather unlikely.
Team: PKNP FC
Current position: 7th
Grade: A
In our pre-season predictions, we projected that PKNP would finish the season just above the relegation zone; in tenth place. After all, despite their ability to punch above their weight when it matters, head coach Abu Bakar Fadzim's squad has no star player, and they were promoted to the top tier as replacement for clubs who were relegated for administrative issues.
There are times when football writers are glad that their predictions prove to be wrong, and PKNP's performance so far is one of those times. As it stands, they currently lead the bottom half of the table, even ahead of clubs with bigger reputations such as Selangor, Melaka United and 2017 Premier League champions Kuala Lumpur.
They experienced a shaky start to their debut season, with two wins and three defeats, but recovered in the following five encounters to record two wins, two draws and one defeat, to collect 14 points altogether. Along the way they have only scored 10 goals, the third worst record in the MSL this season, but compensated for this by emerging as the team with the fourth best goals conceded record; twelve.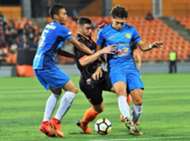 PKNP playing against Felda United on April 20. Photo from Football Malaysia LLP
Their performance appears more amazing when one considers the fact that their attacking forwards; Yeon Gi-sung and Keo Sokpheng have been underperforming, something that would have spelled trouble for almost all Malaysian clubs. The club's local boys Shahrel Fikri Fauzi and Hafiz Ramdan rose to the occassion to help PKNP find the goals, and they have scored five goals between two of them so far.
On top of this, they have had to play outside of Perak, and only until recently they had to play in late afternoon. If Abu Bakar can convince the club board to let them return to Perak and make foreign player changes, it wouldn't be too farfetched to imagine them finishing the league in the top half, maybe even in the top four. That's one prediction that we at Goal don't want to be shattered.
Read the first two reports that have been published earlier this week! 1 2