Transfers
Makua urges Lebese to stay and fight for his place at Kaizer Chiefs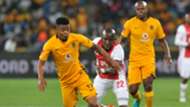 Former Kaizer Chiefs midfielder Frank Makua has advised George Lebese to stay on and fight for his place in the team, saying the left-footed still has a lot to offer the club.
The 28-year-old attacking midfielder has been linked with a possible to Mamelodi Sundowns, and given his lack of game time in recent weeks, he could well decide against renewing his contract with Chiefs in 2018.
However, Makua doesn't think a move to Sundowns will do his career any good. 
"For me, I don't think he should move. He still has what it takes to play for a big team like Kaizer Chiefs. What he brings to Kaizer Chiefs, if given a chance he will do wonders," Makua told Goal.
According to Makua, Lebese has been affected by injuries, especially this season where he has made only 18 appearances with three goals in all competitions.
"It's just unfortunate that he gets these injuries that affect his game, but what I have noticed is that he's not consistent in his game - that's his problem," Makua said.
"Playing for a big team like Chiefs, you have to be consistent week in and week out. With him, you find that one week he performs well and then the next he is out of form, that's his problem," Makua said.
"For him going to Sundowns won't help. I think it's better if he remains at Chiefs and fight. I think Steve (Komphela) likes players of his calibre. So, he has a chance to play at Chiefs with Komphela there," Makua said.
"I think he doesn't work hard. He needs to work very hard to give the coach a big headache to select him for the starting eleven. Playing for a big team like Kaizer Chiefs, you need to work hard all the time at training to have any chance of playing, but make no mistake he is a good player," Makua concluded.