Liverpool
Lovren branded 'immature and naive' for concession of costly derby penalty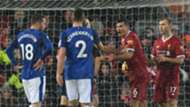 Dejan Lovren's defending which cost Liverpool two points in a derby date with Everton was "immature and naïve", according to John Aldridge.
The Croatian centre-half has faced criticism at regular intervals throughout his time on Merseyside, with his form failing to justify the £20 million invested in him.
His performances have fallen back under the spotlight following his concession of a late penalty against Everton which allowed Wayne Rooney to snatch a 1-1 draw.
Liverpool felt hard done by following Lovren's nudge on Dominic Calvert-Lewin, but Aldridge believes the 28-year-old was asking for trouble and is experienced enough to know better.
He wrote in a column for the Liverpool Echo : "Obviously, the penalty has been the big topic of debate and for me it was a silly mistake by Lovren. It was immature and naive defending.
"The striker was going away from goal. You don't give the player the opportunity to get the contact and go down. You don't give the referee the opportunity to give a penalty. I think 50 per cent of referees would have given it.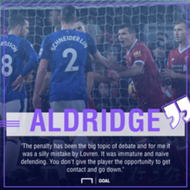 "If you are going to get close like that then put your arms up in the air. That says to the ref 'I'm close to him but I'm not touching him'. If Lovren had done that rather than put his hands on the player's back then the ref doesn't give it.
"To only get a point from a game we dominated was a bitter pill for everyone to swallow.
"Jurgen Klopp was clearly angry afterwards but I didn't have a problem with how he conducted himself. Sometimes emotions run away with you.
"It just shows how much it means to him and I'd rather have a manager with that kind of passion."
Results elsewhere over the weekend mean that Liverpool remain inside the Premier League's top four, but they are just one point clear of Arsenal and two ahead of Tottenham and Burnley.
Aldridge believes that the Reds need to become better at seeing games out if they are to stay in the Champions League spots, with it vital that they avoid letting precious points slip through their grasp.
He added: "We don't seem to win games 1-0. We let a narrow lead slip at home to Chelsea recently and we did the same against Everton. 
"The type of teams who win leagues and cups win matches 1-0. When we can't get a second goal then we need to learn how to see a game out."
Liverpool are back in action on Wednesday at home to West Brom, with further Premier League clashes with Bournemouth, Arsenal and Swansea to come heading into Christmas.