Bayern München
Lewandowski: Refereeing decisions made it impossible to beat Real Madrid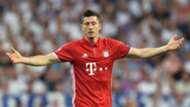 Robert Lewandowski believes a poor refereeing display during Bayern Munich's Champions League meeting with Real Madrid on Tuesday made it "impossible" for the Bundesliga side to progress into the semi-final stage of the competition. 
Ronaldo goal leaves football speechless
Referee Viktor Kassai made a number of controversial calls during the tie and brandished Arturo Vidal a second yellow card with just minutes of normal time left to play. 
Bayern's 10 men hung on for a 2-1 win after 90 minutes, taking the game into extra time, but were dismantled by Cristiano Ronaldo and his Real team-mates in the following half an hour.
The Portugal star scored his second and third goal of the evening, registering his 100th Champions League goal, before Marco Asenio completed the scoring to send Real through with a 4-2 victory on the night, and 6-3 aggregate score.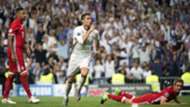 Lewandowski, who returned to the Bayern side having missed out on the first leg with a shoulder injury, insisted the performance of the officials - and not the players - decided the tie.
"In the game today I think we could have won and played the next round but the referee made a lot of errors," Lewandowski said after the game. "I think it was impossible to play Real Madrid with 10 men.
"It was not a red card, and for their goals it was offside for one, maybe two. Also, for my situation as well, when I was one-on-one, I was not offside either. 
"It's very difficult to play against Madrid at the Bernabeu if you have a situation like today.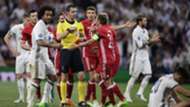 "Yes [it's frustrating] because when you know you are so close to playing in the next round, but it is not your decision that is happening on the pitch. After one one decision they scored a goal and one was offside. It's very difficult because you can fight and play well but sometimes it's impossible to win or play in the next round.
"Of course, after the 90 minutes we had won the game 2-1 and had a good chance but with 10 men for 30 minutes it's very difficult to play Real Madrid and that's why we are not in the next round.
Madrid nemesis Lewy nets record goal
Lewandowski was also asked about centurion Ronaldo and his evolution into a centre-forward, to which the Poland international claimed that despite being one of the best, he is not naturally an out-and-out striker.
"He [Cristiano Ronaldo] is a fantastic player, of course. We know that. Maybe he's not a striker like me."