Super League
Left Foot Sports urge more teams to enter Mombasa league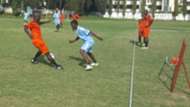 Left Foot Sports have urged more corporate teams to enter fray as they launch second edition of Mombasa league this weekend.
A total of eight teams took part in the opening season in 2017 and Left Foot Sports Managing Director Aman Bhasin is predicting increased number this season.
"We had a very successful debut season with eight teams taking part. The league was very competitive and I am asking more teams to register and take part. We want as many teams as possible to come on board because the league is open to corporate teams."
The teams that took part in the opening season include eventual winners Maersk Kenya Group, Bamburi Cement Ltd, Total Kenya Ltd, Texas Alarms Ltd, Sea Bulk Ltd, Nation Media Group, Trade Winds Aviation Services, Kenya Bay Beach Hotel and Consolbase Ltd.
Bhasin, who lauded their working relationship with FKF Mombasa Branch, also confirmed that the opening matches this season will kick-off on April 14 with fixtures set to be released this weekend.
Meanwhile, Left Foot Sports will launch a social league that will be open to all teams that are none corporate and will kick-off mid of May 2018.