Premier League
Lampard, Gerrard, Beckham - The legends Hazard can beat in games taken to score 50 Premier League goals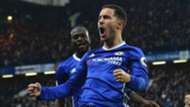 Eden Hazard has been back to his imperious best this season and is fast closing in on a Premier League goalscoring landmark.
The 2015 PFA Player of the Year suffered a humbling fall from grace last term along with many of his colleagues at Stamford Bridge.
It would appear that the Belgium international was merely suffering from an uncharacteristic blip as he, like the rest of the present Premier League leaders' stars, have been rejuvenated in 2016-17.
How Conte made Hazard great again
Hazard has already bettered his return from the previous campaign in just 15 outings this time around, finding the target on seven occasions.
He now has 48 English top-flight efforts to his name, with that tally reached in 150 appearances - his first goal coming against Newcastle United back in August 2012.
Just two more will take him to a half-century, and it appears almost certain that the 25-year-old will beat a host of modern day icons to that milestone.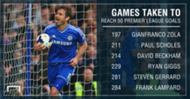 Hazard looks set to blow a couple of Chelsea legends out of the water, with Gianfranco Zola and Frank Lampard having taken 197 and 284 Premier League outings respectively to reach 50 goals.
'Hazard is Chelsea's point of reference'
Elsewhere, Paul Scholes (211) was considered to be the perfect box-to-box midfielder during his Manchester United pomp, while David Beckham (214) and Ryan Giggs (229) were regulars on the scoresheet for the Red Devils. 
They are, however, set to find themselves living in the shadow of the darling of Stamford Bridge in the not-too-distant future.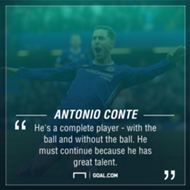 Hazard could also better the achievements of another notable deep-lying goalscorer who graced Chelsea's books, with Gus Poyet requiring 157 games to net 50 times.
Hazard now a STRIKER thanks to Conte
Other stellar names that could be beaten to the punch, including those who operated as out-and-out forwards, include Dwight Yorke (153), Tim Cahill (174), Jermain Defoe (174) and Peter Crouch (200).
The Chelsea star will, however, fall short of two matching two of the finest widemen the Premier League has ever seen, with Robert Pires taking just 137 fixtures to bag himself a half-century and Cristiano Ronaldo 147.