PSL
Komphela told his Kaizer Chiefs' bench Lebese would score against Chippa United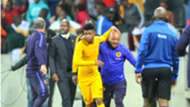 Kaizer Chiefs coach Steve Komphela has admitted that every point counts in the final matches of the season, especially as they are still in contention for the league title. 
Amakhosi moved to second place on the log with a narrow 1-0 win over Chippa United on Saturday night. They are level on points with leaders Cape Town City after 23 league matches.  
"Every point counts at the stage. We played a good side that can hurt you if you aren't careful. They don't threaten often, but they have this ability to score at any point of the game if you aren't careful," Komphela told the media. 
"We had to grind out a result and I'm happy with the three points. The game was a spectacle for the supporters," he admitted. 
Komphela unleashed George Lebese at the start of the second half, and he explained why he had to sacrifice Edmore Chirambadare for the 28-year-old Mamelodi-born player. 
"We made a few changes, including bringing on George Lebese and it worked. With Edmore having worked hard in the first half, we thought that Lebese with his finesse will give us something different, and, I remember telling the bench that George will score for us tonight and that's exactly what happened," he recalled. 
The 49-year-old said the reason Lebese had not been playing on a regular basis is due a niggling ankle injury he has been carrying. 
"George had a niggling pain in his ankle and we wanted it to settle and be treated adequately. I hope he will remain injury free for the rest of the season," revealed the Amakhosi coach. 
Komphela also showered Gustavo Paez with praises, but he didn't want to be drawn into whether or not the South American striker would be relegated to the bench when Bernard Parker returns from suspension. 
"Páez gave us everything we were looking for," Komphela said about the Venezuelan striker. "I thought that he would get tired, but he played well until the end of the match. We will sort out the return of Parker when we get there next week," he added.