PSL
Komphela: Bad voices are an inspiration for me at Kaizer Chiefs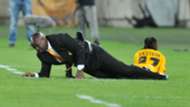 Kaizer Chiefs coach Steve Komphela is happy with his side's 14-game unbeaten run in all competitions.
"There are a lot of good and bad voices out there. In both, there is goodness. The good voices are a remainder and you don't want to let them down," Komphela told TMG Sport.
Earlier this season Amakhosi supporters called for Komphela's head following a string of poor results. 
"Those bad voices are an inspiration, that you know what 'it's okay'. But above all you are privileged to be coaching Chiefs," Komphela continued.
"Many people could be coaching Chiefs. The fact that it's only you who is coaching Chiefs, don't expect them to understand what you are going through," he said.
"It is only you who is in that position. We only have one President. If by any chance you expect him to think like you, it can't be. It's the same with me," he added.
"I strongly believe that the greatest growth happen in discomfort. If you are too comfortable, you will never grow. You need to get setbacks to get great comebacks," Komphela concluded.