Liverpool v West Bromwich Albion
Klopp admits system changes but says Liverpool had 'enough chances to win'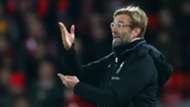 Jurgen Klopp admitted to changing his team's system "two or three times" as Liverpool once again dropped points at home in a scoreless draw against West Bromwich Albion but believes his side had enough opportunities to come away with the victory.
After resting Brazilian stars Philippe Coutinho and Roberto Firmino in a 1-1 draw with Everton on Sunday, the pair were restored to the line-up to team once more with Sadio Mane and Mohamed Salah.
However, the Reds began the game in more of a 4-4-2, and adjusted in game to their more preferred 4-3-3, which resulted in more chances, but was not enough to break through against the resolute Baggies. 
With Liverpool sitting a massive 18 points behind Premier League leaders Manchester City, the German admitted changing the formation to get things right after a sluggish first half but insisted things could have been better. 
"First half we were a little bit stiff, the passing and movement was not so good but even then we had two or three chances," said Klopp. 
"The second half we changed the system two or three times. It was difficult but I think only one time Loris Karius had to make a save – an important one.
"We can do better and we have to do better but on a night like this when you are not at your best you need a bit of luck.
"That was not our best game but I think we had enough chances to win. We didn't use them and we have to accept the result."
It finishes goalless here at Anfield. pic.twitter.com/TGKT37MBMq

— Liverpool FC (@LFC) December 13, 2017
The result could have been different had a goal from Dominic Solanke been allowed to stand, however. 
Solanke bundled home a cross minutes after his introduction as a second-half substitute, but the ball had looped up onto the England striker's arm via his chest.
After a short delay the goal was disallowed but Klopp, who was furious with the decision to award Everton a late penalty in Sunday's Merseyside derby, was more philosophical when asked about Solanke's goal.
"It is twice deflected and I am still not sure," said Klopp. 
"It is for sure [off Solanke's] chest and then I am not sure if it is handball.
"We cannot take the decision back, so all good, it is like this."
Brilliant point!

Come on you Baggies!#WBA pic.twitter.com/lGz2s31sLv

— West Bromwich Albion (@WBA) December 13, 2017
While Klopp was unsure the officials got the decision regarding Solanke's disallowed goal right, Baggies boss Alan Pardew felt it was the correct call not to let the strike stand.
"I thought it was goal until I saw the linesman not move," he added.
"That's always a good sign. It is a good call by the linesman because it is handball."