Invalappil Vijayan
Kerala Floods: IM Vijayan, Debjit Ghosh to play charity match in Kolkata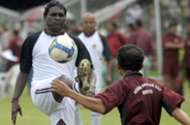 Former Indian internationals IM Vijayan and Debjit Ghosh are set to be involved in a charity football match on September 22, 2018, at the Kalyani Stadium in Kolkata. With relief work in full flow in Kerala after the floods, support has been pouring in from all corners.
The football match will be played by well-known footballers. All-Star Red captained by Vijayan, will take on All-Star Blue, captained by Debjit. 
Renowned Kolkata-based fashion designer Agnimitra Paul has also offered her support for the event and will be designing the jerseys for the match. Telecommunications company SIMOCO will be the sponsors of the event. 
Vijayan, who was appointed as the National Observer for football by the Ministry of Youth Affairs and Sports last year, had to shift camp after his house was inundated during the Kerala floods. 
The state was hit by the biggest natural disaster in its history in mid-August when the floods took away more than 300 lives and forced over 200,000 people to move to relief camps.