FIFA Club World Cup
Kenya referee on the spot once again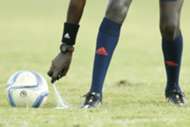 Kenyan referee Davies Omweno is on the spot once again after Libya reportedly petitioned Fifa to order for a replay of their 2018 World Cup qualifier against Tunisia.
Omwela, who was the centre referee in the much talked about game, was found guilty of gross misconduct in a controversial match that would later see him slapped with three-month suspension from Confederation of Africa Football (Caf)
The Kenyan was charged, alongside his assistant, Berhe O'Michael from Eritrea, with wrong positioning, movement, and failure to administer disciplinary sanctions during the second leg of Group A of the 2018 World Cup qualifiers at the Omar Hamadi Stadium in Algeria on November 11, 2016.
Caf would later slap Omweno with a ban for his poor performance in the game, an allegation that Libya felt could have been brought about by his relationship with a Tunisian woman.
Omweno, who is considered to be the country's best blower, is said to have been married to a Tunisian woman.
Omweno was accused of wrongfully disallowing Libyan goal for an 'offside' before sending off Libyan captain early in the second half only him to award Tunisia a penalty late in the second half.
Libya now want that fixture to be replayed according to Ghanaian publication, footy-ghana.com
Libya decision was greatly influenced by the recent move by FIFA to order for a replay of a World Cup Qualifier match between South Africa and Senegal.
Last week, FIFA ordered South Africa and Senegal fixture held on 12 November 2016, to be replayed following Court of Arbitration for Sport (CAS) decision to uphold a lifetime ban of the match referee, Joseph Lamptey who was accused of manipulating the outcome of the game in favour of South Africa.