Super League
Kelantan appoints Fajr Ibrahim as new TD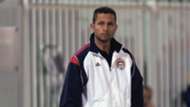 The 53-year-old Syrian has taken up the the new role at Kelantan according to a report in Berita Harian but it's not certain yet whether he will also assume the head coach duties at the Red Warriors.
Languishing in 11th place in the Super League and knocked out by PKNS FC in the third round of the FA Cup on Saturday, the whole club is in dire need of an injection of confidence.
After the sacking of Sathih Bensoh, Yusri Che Lah has been put in temporary charge of the team but positve results have been few and far in between.
Oddly, several players have also been let go by the club in recent weeks, Shukri Hamid and Hattapon Bun An, the two unlucky players who have their contractc mutually terminated.
Fajr have plenty of experience, having started coaching since 2006 but his jobs have been exclusively in the middle east region, hence will take time to get to know the football here.
After the international break, Kelantan's immediate opponent will be a tough away trip to Alor Setar, to face Kedah.